Resource Title
The Global YOUth – Journey to Act!
Summary
Build solidarity, engage on story 'archetypes' and action on global issues affecting people and planet into your youth work and activism with this easy to use resource pack.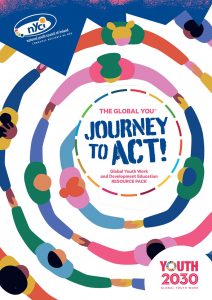 Description
The Global YOUth – Journey to Act! and its 13 activities are designed to make it as easy as possible for you to look at the big issues with your group. No matter if you are short on time, or don't feel you have enough knowledge – there is something in here for you.
Broken into 4 stages, the resource includes the knowledge, skills and guided activities for you to use with and for young people, using non-formal development education methodologies:
Connect with the 'self'
Meeting young people where they are at
Seeing and claiming our global identity
Collective action
This resource is particularly striking on issues of solidarity, such as activities on:
'individualism' vs 'collectivism'
the international vaccine equality COVAX scheme
tackling the inequality pandemic – on 3 big issues: global hunger, the climate emergency and gender – and
journeys taken towards building collective action (such as game theory, cooperation and competition approaches).