Resource Title
ThinkB4UClick: empowering students to be effective, autonomous and safe users of new media
Summary
This resource has been specifically designed for teachers of Junior Certificate CSPE who wish to explore the issue of online privacy in the context of online rights and responsibilities. The ultimate aim of this resource is to empower students to be effective, autonomous and safe users of new media.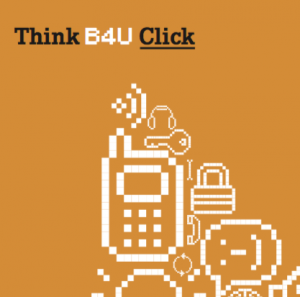 Description
This resource sets out to make students aware that when online, just as in all other aspects of their lives, individuals have human rights. Everyone is responsible for their actions towards other people and for the safeguarding of other people's rights. This is particularly pertinent in the more interactive realm of Web 2.0 where online communities are largely unregulated and rely on the community members to moderate them by reporting inaccuracies, potentially defamatory comments, and posting of inappropriate content.
The methodology employed by this resource guides students through the issues using active methods to stimulate discussion and allows students the space to consider how these issues affect them personally, how to assert their online rights, and how to respect the rights of their peers.
The resource consists of 10 lessons which follow sequentially. However it is intended that the lessons could be adapted at the teacher's discretion.
Each class comprises aims, learning outcomes, CSPE and ICT curriculum mapping and a step by step guide. Several of the lessons include worksheets and in-class handouts which teachers are invited to photocopy for distribution in class.
An additional comprehension exercise entitled Watch Your Space is included after the class plans, along with a comprehensive outline of how to carry out two action projects – an Internet Safety Survey and Creating a Charter of Online Rights and Responsibilities.
The appendix contains a range of further information for teachers, designed to facilitate classes and to help answer students' questions.
Contents list:
Class 1 What is Privacy?
Class 2 My Autobiography
Class 3 The Images
Class 4 Simulation: Privacy Under Threat
Class 5 Debating the Issues
Class 6 What the Laws Say
Class 7 Reflecting on Online Rights
Class 8 The Committee
Class 9 The Tree of Solutions
Class 10 Think Before You Click
The Watch Your Space Comic & Activity Sheet
Action Project 1 & 2
Suggested Use
To explore and debate citizenship in the context of new media with CSPE students but also immediately relevant at other levels and in youth education.
Further Reading
This teaching resource pack was developed jointly by the NCTE and the ICCL, in cooperation with the Citizenship Education Support Team of the Second Level Support Service (SLSS).
The Irish Council for Civil Liberties www.iccl.ie
The National Centre for Technology in Education www.ncte.ie