Resource Title
Water, Come to Me!
Summary
Water, Come to Me! is a new resource for Junior and Senior Infants, written and published in a collaboration between Maynooth University Froebel Department of Primary and Early Childhood Education and GOAL. This series of lessons introduces junior classes to global development issues in an age-appropriate and creative way.
GOAL has published this resource as a starting point for teachers and in support of the 17 Sustainable Development Goals (or Global Goals), which Ireland, together with the other 192 UN countries, is committed to achieving by 2030. It was inspired by the picture book The Water Princess by Susan Verde and Peter H. Reynolds, which is based on the childhood experiences of model and activist Georgie Badiel (Gie Gie) in Burkina Faso, a small country in West Africa.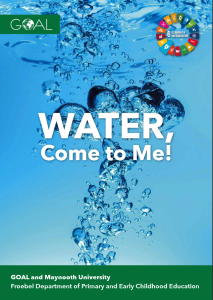 Description
There are 7 arts education lessons in this resource, followed by Lesson 8 which is a DICE lesson to conclude. It is divided into eight distinct lessons of 35 minutes' duration, covering drama and dance. However, additional lessons might be required depending on the class level and their familiarity with drama and/or dance. At this level, additional teacher support may be provided in the form of demonstration and/or sample questions. Some children may need an introductory lesson on Role Play which can be facilitated in conjunction with the resource.