Resource Title
What Next? A training resource for working with returned volunteers
Summary
'What Next?' is aimed at volunteer sending agencies and any other organisations or groups that work with volunteers who are returning from placements in the global south.
It is specifically for those that believe that volunteers are a valuable resource in terms of bringing a global perspective to their own community when they return home. The resource aims to support and promote volunteers' continuous engagement on international development issues, and to strengthen their involvement as active citizens.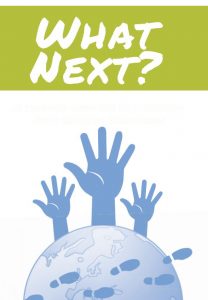 Description
What Next? consists of 21 activities across four stages that examine various stages of the journey from volunteering to active citizenship for anyone engaged or working with volunteering sending agencies (VSAs) seeking to design and deliver critical reflection and planning exercises for participants.
Stage 1 'Storytelling'. This section looks at the experience of the volunteer. It is very important that the volunteer reflects on the experiences that they have had to date, as it helps them understand key learning and why they are moving in the direction they are in life.
Stage 2 'Bigger Picture'. This section looks at bigger global development issues, why they exist and how they are connected. It gives participants a space to discuss and debate different topics. It looks at how these issues affect different people and places depending on who they are and where they were born. It encourages a critical lens on these topics and attempts to deepen participants' thoughts as to why these different issues exist and what their root causes are.
Stage 3 is about creating an action project. In development education, informed action is crucial. This builds on the first stage to help participants develop their own actions. It sets out different activities, from an initial brainstorm, to a step-by-step 'how-to' on all the different aspects of starting and running a successful project. It includes setting aims and objectives, time, financial management, and assigning roles. By the end of stage three, participants should be well on their way to establishing a very strong social action project.
Stage 4 is about capturing and consolidating the learning from the previous stages. It invites participants to evaluate and reflect on their learning. It aims to inspire and challenge them to stay involved in development issues after the training and action projects are completed.