Resource Title
Without Your Home Your Life Develops Differently: Teaching and learning resource for Civic, Social and Political Education
Summary
The resource communicates issues – which can potentially be complex – in a way that connects with young people. The module aims to help breakdown stereotypes about people who are homeless and also support efforts to prevent young people who may be at risk of becoming homeless.
The module is broken down into 10 lessons and includes information, worksheets, images and exam style questions. The resource also comes with a DVD which contains interviews with Focus Ireland staff and customers.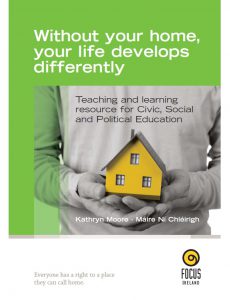 Resource Details
Author:

Kathryn Moore and Máire Ní­ Chléirigh

Publisher:

Focus Ireland

Country of Publication:

Ireland

Year:

2010

Page Count:

64
Description
Developed with the CDVEC Curriculum Development Unit, the module contains 10 lessons plus a support DVD which includes:
photos, music, film, adverts
uses a variety of learning methodologies (brainstorming, workstations, group activity, role play to define homelessness and its causes, media portrayals of it, human dignity and;
a series of case studies.