80-20 Development in an Unequal World
'Where did the idea of measuring poverty based on US$1 a day come from? At US$1.25 a day, with the current model of capitalism, it would take 100 years to eradicate extreme poverty and at US$5.00 a day, it would take 207 years.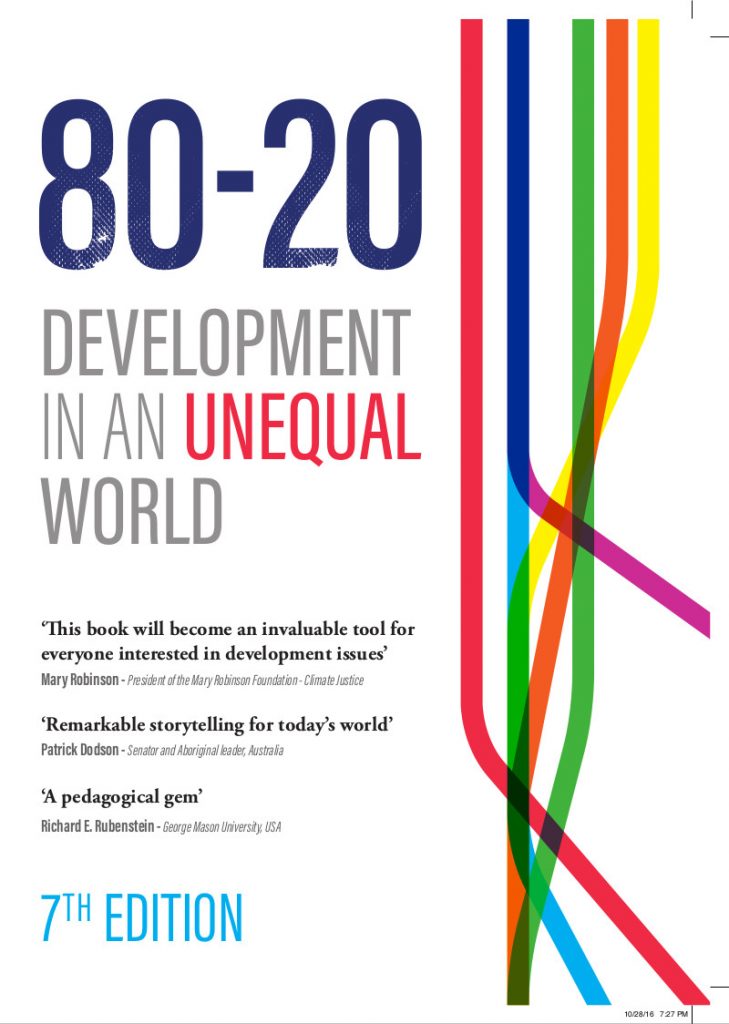 Yet, 57% of global income is in the hands of just 10% of people on the planet…are these matters of charity and welfare, or ones of justice and injustice?'
Exploring the state of our world and learning about rights and wrongs; choosing to question and identifying alternatives is, at its core, what 80-20 Development in an Unequal World is all about.
Fully illustrated, designed and written by an international group of 30 authors, cartoonists and educationalists, 80-20 explores inequalities and injustices through striking visuals and in a plain speaking fashion by assembling facts, figures, graphs, maps, photos and political cartoons as well as analysis of the world today.
It's 15 chapters define and debate development issues such as women's rights, climate change and sustainability, hunger, population, human rights, migration, inequality, overseas aid, spotlighting movements and campaigns for change – completely revised and updated to include the Sustainable Development Goals agenda and the Paris Agreement on tackling climate change.
Key features
provides an introductory, plain speaking overview of key global issues, trends and stories from across the world
informs, educates and inspires readers of all ages to unpack our increasingly unequal world in order to challenge it
widely used at introductory university level; among teachers and students at senior post-primary level; by NGO personnel in education and training as well as in adult and youth education contexts
the '80-20' idea refers to the 80% living in the 'developing world' and the 20% living in the 'developed world'
used in over 20 countries worldwide including USA, UK, Canada, South Korea, Brazil, South Africa, Spain, Switzerland, Ireland and Australia
Editors: Tony Daly, Ciara Regan and Colm Regan
Published by: 80:20 Educating and Acting for a Better World and New Internationalist
ISBN-13: 978-1-78026-316-8
Dimensions: 200 mm x 260 mm
Page extent: 308
Publication date: Winter 2016
Authors: Bertrand Borg, Mary Rose Costello, Tony Daly, Amal de Chickera, Michael Doorly, John Dornan, Phil Glendenning, Lorna Gold, Omar Grech, Patrick Hayes, M. Satish Kumar, Jerry Mac Evilly, Beatrice Maphosa, Grace McManus, Paul Power, Toni Pyke, Ciara Regan, Colm Regan, Roland Tormey
Cartoons and illustrations: John 'Brick' Clark, Claudius and Martyn Turner
Design and graphics: Ray O'Sullivan Jr. (Pixelpress.ie) and Dylan Creane (Gush Design)
Photographers: Gareth Bentley, Elena Hermosa, Saiful Huq Omi and Amy Scaife
What others have said
'A pedagogical gem' – Richard E. Rubenstein – School for Conflict Analysis and Resolution, George Mason University, USA
'Remarkable storytelling for today's world' – Senator Patrick Dodson, Aboriginal leader, Australia
'This book will become an invaluable tool for everyone interested in development issues' – Mary Robinson, President of the Mary Robinson Foundation & Climate Justice
'80:20 Development in an Unequal World is attractive, engaging, challenging and never simplistic or patronising and could allow schools to put global issues at the heart of the curriculum' – Professor Brian Boyd, University of Strathclyde, Scotland
'Whether the educator is experienced or just starting to teach development in an unequal world, 80:20 is likely to become a treasured and much used asset' – Gerry Jeffers, Maynooth University, Ireland
'This book remains a compulsory companion for students in sociology, development studies, geography and in general all social sciences' – Frik de Beer, Professor Emeritus, University of South Africa
Special Price: €15       
Buy 3 and save a further 25% by entering discount code 25off7th at the checkout