Five, Fifty, Five-Hundred
Or how the world rewards the rich at the expense of the poor... and where we fit in.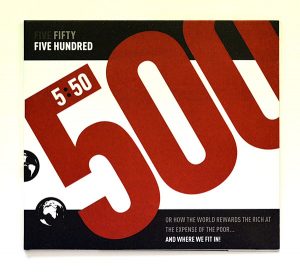 5:50:500 is a graphic-poster led interactive CD-Rom of 130 trigger sheets exploring a range of local and international topics from trade and trade related issues to human rights, women's rights and international human rights instruments and agreements; environment and sustainable development; wealth and poverty; injustice and inequality; views of the world as well as education and health.
Over 75 Background Briefing Papers
In simple and accessible language; each one no more than 2 to 3 pages for ease of use. The briefings define terms, present background information; explore theories and viewpoints as well as providing annotated links to other directly relevant sources of additional information.
Suggested Activities for using 5:50:500 in Education include:
structured discussion and debate
drama, role play and the arts
cartoons, photos
taking action of various kinds
music
developing wallpapers and posters as well as in using the internet
For more, access free sample pages, trigger sheets, a detailed explanation of the idea of '5:50:500'.
Product Details
Written by: Bertrand Borg, Dylan Creane and Colm Regan
Publisher: 80:20 Educating and Acting for a Better World
For ages: 12-17, and youth and community education
Illustrations note: 125 stimulus sheets
Page extent: 150 pages
Publication date: 7 August 2009
Graphics and layout: Gush Design
Dimensions: 125 x 139mm | 23g
ISBN10: 0955426340
ISBN13: 9780955426346