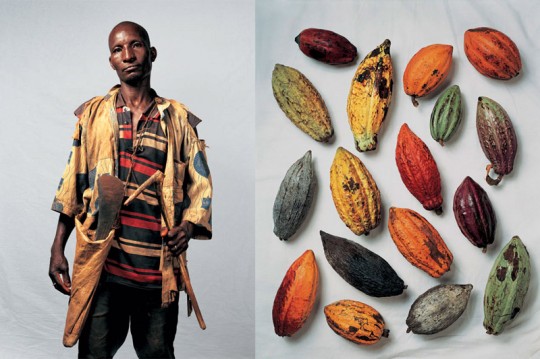 In 2007, Japanese fashion designer Issey Miyake asked photographer James Mollison to contribute to an exhibition on Chocolate that he was curating with Japanese industrial designer Naoto Fukasawa. In Japan, Chocolate has become a luxury product with organised tastings – similar to wine. Mollison decided it would be interesting to explore the disparity between the cocoa producer and the end product consumer. He focused on the Côte d'Ivoire – the world's largest cacao producing country. The farmers were all photographed for the exhibition in the village of Zongokro in the 25km of no-man's land dividing the country since the civil war in 2003. They each earn less than US$1 per day.
To see the full exhibition, visit Moillison's website here
For more information on (un)fair trade cocoa see https://www.fairtrade.net/cocoa.html or visit the Exploring Ethical Consumption section on www.developmenteducation.ie here https://www.developmenteducation.ie/issues-and-topics/ethical-consumption/ which explores the debates, the statistics and some ethical buying tips further.