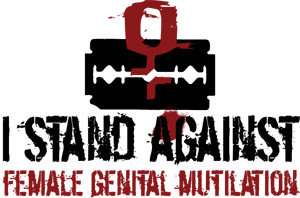 No ethnical defence can be made for preserving a cultural practice that damages women's health and interferes with their sexuality
Nahld Toubia MD (a physician from Sudan and clinical professor in the Centre for Sexual Pleasure and Health's Population and Family Health department)
Today, February 6th, is the UN International Day of Zero Tolerance to Female Genital Mutilation/Cutting (FGM/C) highlighting various campaigns on the subject, including Amnesty International's and The Orchid Project's.
What is Female Genital Mutilation or Cutting?
Female Genital Mutilation or Cutting is 'the partial or total removal of the female external genitalia or other injury to the female genital organs for cultural or other therapeutic reasons'. The procedure is generally carried out on girls between the ages of 4 and 14 and has been known to have been performed on infants, women who are about to be married and in some cases women who have just given birth. It is usually performed by a traditional midwife or barber, without anaesthetic, using a scissors, razor blades or broken glass and is therefore a hugely traumatic experience. More often than not, FGM/C leads to ulceration of the genitals, blood poisoning, infertility, obstructed labour, haemorrhaging and sometimes even death. For more in depth facts and information on FGM/C, including reasons as to why it is carried out, see the WHO factsheet on the subject.
Facing down 'cultural identity'
By educating ourselves and others of the damage this can do to girls and women, not only physically but mentally, we can only then begin to challenge the taboo surrounding the issue of FGM/C – the first step in a long road towards eliminating this type of practice.
In an FGM/C society, a girl cannot be considered to be an adult until she has undergone this procedure – it is an exercise of cultural identity: one based on mutilating the genitals of women which are partly or entirely removed or injured with the goals of inhibiting a woman's sexual feelings. FGM/C happens primarily in Africa, in particular in North-Eastern, Eastern and Western Africa. However, it also takes place in the Middle East, in South-East Asia – and also among immigrants in Europe.
Women in these societies often cannot marry without FGM/C. The type of procedure used will vary with certain conditions and these conditions could include the female ethnic group, the country they live in, rural or urban areas as well as their socio-economic status.
Approximately 100 to 140 million girls and women in the world have experienced Female Genital Mutilation or Cutting, with more than 3 million girls at risk every year in Africa.
Waris Dirie's story
Meet Waris Dirie – supermodel, author, actress, human rights activist and victim of FGM/C. In 1997, she gave an interview to women's magazine Marie Claire, where she first spoke about her personal experience of FGM/C. The next year she published her first book (her autobiography) Desert Flower, which has been since made into a movie of the same name. An extract from the book is available online, however, it comes with the warning that it does contain quite graphic content of the FGM/C procedure. It can be read here.
___________________________________
Explore more on Female Genital Mutilation/Cutting
Kenya has been in the news recently on the issue of FGM/C, having recently passed a law making it illegal to practice, procure it or take someone abroad for it.
For more information on the fight to eliminate all forms of FGM, see WHO's report on the issue from 2008 and the END FGM European Campaign (run by Amnesty International Ireland).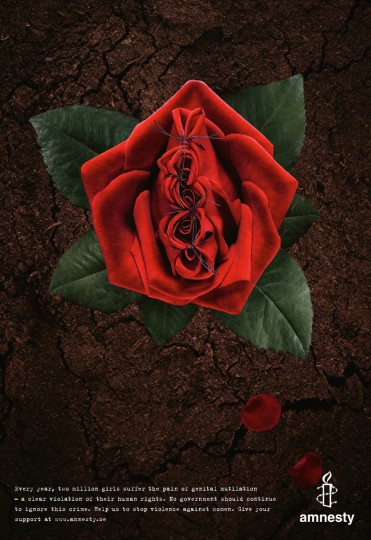 Sewing a Rose: Amnesty International's  powerful poster from the 2007 campaign to raise awareness about female genital mutilation