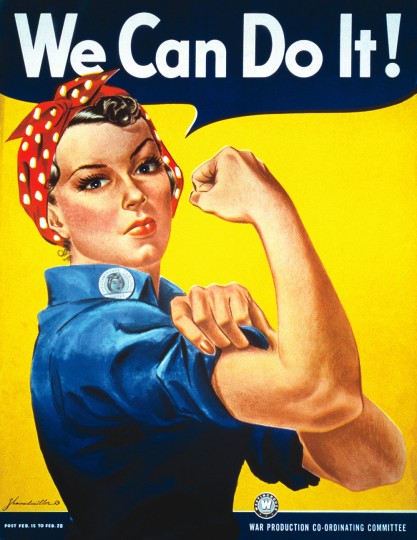 image: We Can Do It poster by Howard J. Miller (1943)
Yesterday UK newspaper The Observer updated its The 10 Best… series by launching the 10 best female pioneers of all time.
In their opinion the top 10 female pioneers of trailblazing women, from suffragettes to style icons are:
1. Emmeline Pankhurst (1858-1928)
2. Martha Gellhorn (1908-98)
3. Wangari Maathai (1940-2011)
4. Kathryn Bigelow (1951- )
5. Mary Wollstonecraft (1759-97)
6. Rachel Louise Carson (1907-64)
7. Marie Carmichael Stopes (1880-1958)
8. Coco Chanel (1883-1971)
9. Octavia Hill (1838-1912)
10. Elizabeth Garrett Anderson (1836-1917)
Would you agree with the Guardian/Observer 10 Best list?  If you were to write your own list, who would be your 10 best female pioneers be?
Would your focus be on politicians, environmentalists or peace keepers for example?
Would you include more women from Third World countries?
Think about why the women you choose are important.
What have they achieved as women or for women?
Some may feel that including Coco Chanel alongside women such as Wangari Maathai or Emmeline Pankhurst is blasphemous, while for others revolutionising short hair and trousers for women is empowering.
What do you think? Send us your own lists…
An annotated slideshow accompanies the 10 Best list, which we have included below.
________________________________
Details of The Observer 10 best female pioneers list:
Emmeline Pankhurst
(1858-1928)
Pankhurst's slogan 'Deeds, not words' defined her life. We would have got the vote without her, but her bravery and radicalism shocked society into a new pattern that could not be reversed. Pankhurst and her daughters were jailed repeatedly – and even then they staged hunger strikes to secure better conditions. When war broke out, they encouraged women to support the common cause and work in industrial production. In 1918 the Representation of the People Act granted votes to women over the age of 30
Martha Gellhorn
(1908-98)
Gellhorn's first reports were on the impact of the Depression on working families in the USA. She went to Spain with Ernest Hemingway to cover the civil war in 1937 and went on to report on wars across the globe. She was among the first journalists to enter Dachau after it was liberated. Gellhorn was passionate about truth and the power of witness, and I saw the effect she had on my friend Marie Colvin. Now I see how Marie's life is an inspiration to the next generation who risk their safety to bear witness to the human sufferings of war.
Wangari Maathai
(1940-2011)
The first person from her family – and her village – to get an education, Maathai won a scholarship to the USA. She had seen first hand the environmental degradation caused by agribusiness and political corruption, and her Green Belt Movement enabled women to replant devasted areas with trees. She endured sexism, political bullying and physical violence but she never gave up her fight. She was the first African woman to receive the Nobel Peace prize, 'for her contribution to sustainable development, democracy and peace'
Kathryn Bigelow
(1951- )
In 2009, Bigelow became the first woman to receive the best director Oscar (she's only the fourth woman in history to even be nominated). Her film that year, The Hurt Locker, was also pronounced best picture. This tough, macho war movie saw her become the first woman to win the Bafta for best direction and the Critics' Choice award for best director. The 60-year-old has never picked easy, 'soft' subjects, and her next project will be no different: as yet untitled, it tells the story of the hunting down of Osama bin Laden by US Navy Seals
Mary Wollstonecraft
(1759-97)
Writer, feminist and philosopher Wollstonecraft was the first woman to articulate the gap between the rights of man and rights of women. Despite the beliefs of Thomas Paine et al, she could see that, closer to home, women were abused and there was little or no recourse to law. In 1792 she wrote her book, A Vindication of the Rights of Woman, which is still a powerful tract today, with much that is still relevant to women's lives even in this country. Her daughter, of course, was Mary Shelley, the famous author of Frankenstein
Rachel Louise Carson
(1907-64)
Carson was the founder of today's environmental movement. In the late 1950s she wrote her extraordinary book Silent Spring, which pointed out the direct connection between DDT and the loss of bird life: the the powerful chemical was causing birds to lay eggs with fragile shells. It was met with fierce denial from the chemical industry, which tried to stop the book and made endless attempts to persecute Carson. Despite battling cancer, Carson succeeded in getting congress to impose a nationwide ban on DDT. Sadly, the companies just exported their poison abroad
Marie Carmichael Stopes
(1880-1958)
Today there are Marie Stopes clinics in more than 40 countries, continuing the pioneering work of Stopes to bring sex education and birth control to women regardless of their age, marital status or wealth. Her manual on sex, Married Love – written, she said, when she was still a virgin – was highly controversial because it contained explicit anatomical drawings. Stopes opened the UK's first family planning centre, the Mothers' Clinic, in Holloway, north London, in March 1921, and in 1930 helped form the National Birth Control Council, forerunner of the Family Planning Association
Coco Chanel
(1883-1971)
Even those who claim to have no interest in fashion owe a debt to Gabrielle Bonheur 'Coco' Chanel, the only clothing designer to be named on Time's list of the 100 most influential people of the 20th century. Among her pioneering productions were many fashion choices we now take for granted: the little black dress, suits for women, cashmere cardigans, slacks. She also helped popularise short hair. Chanel allowed women to be fashionable while at the same time wearing comfortable clothes appropriate to the setting. She was a genuine liberator
Octavia Hill
(1838-1912)
Hill is best known for co-founding the National Trust, but she was also a tireless campaigner on issues ranging from the importance of education to the protection of green spaces in and around London. She was particularly concerned with the welfare of people in cities and was a driving force behind the creation of social housing, setting up the first ever housing association. The National Trust evolved from her desire to get people in the city out to the country. She has been called 'Britain's greatest ever social entrepreneur', and has had a huge influence on the way we live today
Elizabeth Garrett Anderson
(1836-1917)
When Garrett Anderson was born, there were no female doctors in Britain. Inspired by American physician Elizabeth Blackwell, she trained as a nurse and applied for her MD, but was turned down by every university she approached. So she moved to France and qualified at the University of Paris instead. She set up in practice as a GP in London as the UK's first female doctor, and in 1876 helped usher through parliament an act that formally permitted women to be medics. Emmeline Pankhurst often argued that if women could be trusted with lives, surely they could be trusted with the vote