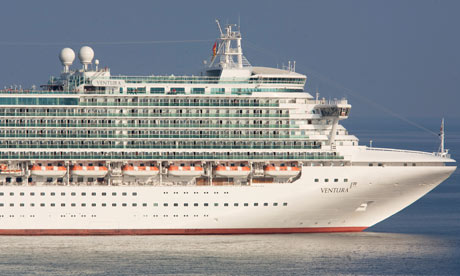 The P&O cruise ship Ventura off the coast of Monaco. Photograph: David Levene for the Guardian
Have you ever taken a trip across the Irish Sea on a ferry from Dublin to Liverpool and by chance noticed the men and women working on the ships? Do you know where they are from? Do you consider that they are likely to spend their lives at sea, away from their homes and families and most often never being able to go ashore because they have no visa approval?  Have you ever considered that they may be working under 'sweatshop' conditions? 
Mostly you will find that workers are from low-income countries in Asia, Eastern Europe, the Caribbean, and Central America.
A recent article in The Guardian probing into cruise liners revealed that P&O Cruise Ferries are paying ship staff a basic salary of 75p (97 cent) an hour in a bid to remain competitive. With more than 750,000 passengers taking cruises out of UK ports in 2011 and some 1 million Britons flying abroad for a cruise, the cruise industry's revenues rose to more than £2.4bn. The cost of an average (and that's not the high luxury end) 10-day cruise could now cost you up to £1,434 (or €1,757).
According to the report, a junior waiter on a ship sailing out of the UK "earns a basic salary of £250 a month, for shifts lasting a minimum of 11 hours, seven days a week, with a possible £150 extra in bonuses" and is described as "a significantly increased basic salary". Bonuses and tips are dependent on achieving 'performance targets' some of which are expected to be 96% – cabin stewards ranked below 92% by customers will forfeit an entire bonus payment worth approximately 15% of their basic salary. Bonuses are highly dependent on client tips.
In an article by Ross Klein in Our Times: Canada's Independent Labour Magazine HIGH SEAS, LOW PAY: Working on Cruise Ships, Klein outlines that
While the working conditions for officers, cruise staff, and those working in the shops and casinos are adequate, if not good, the experience of those working in the dining room, cleaning rooms, in the galley, and below deck is quite different. These workers are often paid substandard wages, have marginal accommodations, survive on inadequate food, and live under a system that is rife with abuse and uncertainty.
Securing a position on a cruise liner isn't that easy. Most liners recruit staff from agencies, with many agencies charging exorbitant amounts to secure a post. For example, one newly hired employee who had to pay a Croatian cruise-ship agent US$600 to confirm his hiring. Carnival Cruise Line loaned him US$1,400 for his ticket to the U.S. and the employee, suddenly in debt, "became, effectively, an indentured cruise- line employee, obligated to work for months to pay off his loan."
Long standing Cruise Junkie blogger and activist Ross Klein is a veteran campaigner against the 'sweatships' industry and his activities provide a good place to track what is being done about the continuing and ongoing hazards that are replicated time and again in an ethically dubious, environmentally negligent and deeply unregulated sector.
And if you think that you are too small a fish to take on labour rights against the biggest fish in the sea (see cruise liner industry) then clearly you haven't met the Pirates of Justice.
_____________________________________
Explore more…
Sweatships at Sea: Carnival Cruises Pay Below International Standards by Pratap Chatterjee | 1st May 2012 | CorpWatch blog
Sweatships – apartheid at sea | War on Want | 2002 case study of the campaign to highlight what working conditions are really like for people who work on board cruise ships. Original report (jointly written with the International Transport Worker's Federation) can be found here.