Everyone has their favourites they tune in for during the Olympics, whether it's the Olympic giants such as the infamous Usain Bolt, the immense Michael Phelps or their own national hero. However, as Ros Wynne-Jones of The Guardian puts it:
'All competitors are, by definition, Olympian, but there are those who invite further Greek hyperbole, whose herculean struggles come with epic back stories'.
Here are some of those Olympians who we believe deserve a bit more of the limelight than they may receive.
Guor Marial | Independent Olympic Athletes (for South Sudan) | Men's Marathon (Athletics)
Guor Marial is one of four Independent Olympic Athletes (IOA) who won the right to compete as a stateless athlete in London 2012 – and right at the last minute! Marial is a South Sudanese refugee living in the US. The International Olympic Committee offered him a chance to run for Sudan, but he declined. Marial lost 28 members of his family to the civil war which devastated Sudan, and led to the breaking away of South Sudan last year. He felt that if he represented Sudan, that it would betray their memory, but competing independently in the games under the Olympic flag (since South Sudan was not sending a team to London) would honour them. Although he is officially running as an IOA, there is no question that he will be running for our world's youngest nation, South Sudan.
Marial will be running in the Men's Marathon on Sunday the 12th August, having run his first marathon only last year, clocking up an Olympic time in his only attempt at the race. He told Reuters
'For me it means a lot to glorify the people who died for their freedom and people who lost their lives, including 28 members of my family and relatives. Their spirit is what allows me to get up every single day, put on my shoes and train to honour them'.
Gladys Tejeda | Peru | Women's Marathon (Athletics)
Gladys Tejeda is one of seven female members of the team representing Peru. However, it was only four years ago that she first heard about the Olympics. Just over 10 years ago, she participated in a four-mile run through the Peruvian highlands near her hometown of Junín – she didn't even own a pair of runners for the race and managed to borrow a pair the night before the race, which led to her coming in second place. 10 years on and she is now representing her country in the Olympic games, having only heard of them four years previously – her family didn't own a television and no one in her home town ever spoke of the Games. Her parents were subsistence farmers and earned money by taking care of people's animals. She began working at the age of 8, as did her other siblings, in order to earn some money to help her parents. She never aspired to run in any other races other than local ones, which earned her some small amounts of money, pencils or notebooks for school and running gear.
In 2007, her family got its first television where they learned about the Olympics. Having seen how fast Tejeda was in the local races, and while finding time to watch the Beijing Olympics in 2008 in between her day job shepherding, her brother, Jorge, encouraged her to compete. After participating in more local races and finding a trainer, Tejeda qualified for the Olympics in her first marathon in Seoul, South Korea, last year. Her mother and brother Jorge will be in London to watch her compete this time, with the rest of her family watching on television at home in Junín. See the photogallery of Tejeda and her family at home in Junín.
Source: CS Monitor
You can watch Gladys Tejeda on Sunday the 5th of August competing in the women's marathon.
Adrien Niyonshuti | Rwanda | Men's Cross-country – Mountain Bike (Cycling)
Rwandan cyclist – Adrien Niyonshuti – the flag bearer for the Rwandan Olympic team, is Rwanda's first rider to qualify for the Olympics.  In 1994, Niyonshuti was forced to hide in small holes in the ground as he fled the horrors of the genocide in which almost 1 million people were murdered in 100 days. His six brothers and many of his friends were killed while he faced a daily struggle to stay alive. Eighteen years on and Niyonshuti is hoping to put Rwanda on the map for a different reason – to portray it in a more positive light, as a country of great sports people and, most importantly, great cyclists. His ambition in London 2012 is to simply finish in the top 20 of his event, but most importantly that he and his teammates will have another impact:
'Above all I would like – as a result of these Olympic games – that people think of my country in terms of sport and cycling in particular, even as simply a great nation. The first thing people think of at the moment is the genocide, but that was 18 years ago. I want people to concentrate on the positive aspects of my country'.
He also wants children in Rwanda to see him and think, 'if he can do it, so can I': that it is more about being a role model for them to follow their dreams, than winning medals. Read Niyonshuti's amazing story in Sports Illustrated South Africa. Watch Niyonshuti in the Men's cross country biking on Sunday, the 12th of August.
Women and the games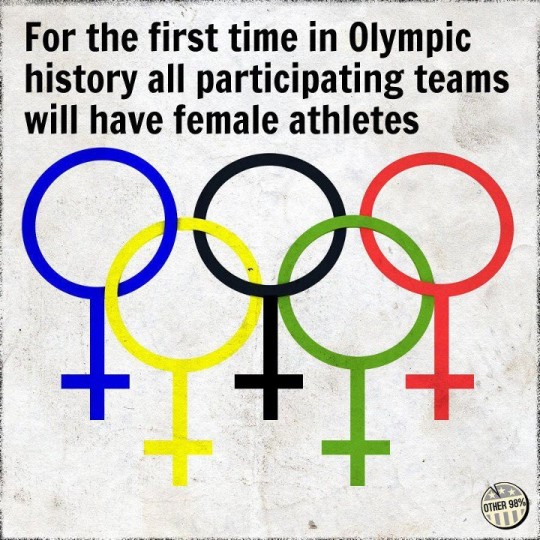 Source: The Other 98%

Originally, the ancient Olympic Games were just for men to compete in. When it came to women, only virgins and prostitutes were allowed to watch – that is unless you were one of the women being given as a prize to the charioteers.  Women haven't always been welcome at the Olympics for reasons of decorum, menstruation and the fear of them turning into men – according to Niamh Griffin of The Irish Times. We've come a long way!
London 2012 is also the first Games with women on every national team, which is considerable progress considering, even in 1996 in Atlanta, as many as 26 national teams had no female competitors at all! Qatar (Bahya Mansour Al Hamad, Noor Hussain Al-Malki, Mada Mohammed W S Arakji and Aia Mohammed), Brunei (Maziah Mahusin) and Saudi Arabian (Wodjan Shaherkani and Sarah Attar) national teams have female competitors for the very first time this year.
Saudi Arabia made history with its first two female competitors entering the Games. Wodjan Ali Seraj Abdulrahim Shaherkani will compete in judo and Sarah Attar in the 800 metres. In Saudi Arabia, millions of women and girls have effectively been banned from taking part in sport, so the inclusion of these two young women (16 and 19 respectively) could possibly be a catalyst for change. However, their inclusion as competitors has not been without controversy. Shaherkani has been banned from wearing her hijab when she competes in the judo competition this week (beginning Friday 3rd of August). The International Judo federation ruled that Shaherkani would not be able to wear the traditional Muslim headscarf as it would be dangerous in a sport involving throws and strangleholds. Talks between Olympic and Saudi officials have been held in an attempt to resolve the dispute which, according to the Telegraph, may lead to Saudi Arabia withdrawing their whole team from the Games.
That leaves me with Katie Taylor – someone who all of us at developmenteducation.ie HQ will be keeping an eye on, more so than others, as she is from Bray (where we are based, for those of you who don't know).  She is four-time world amateur champion, five-time European champion, four-time European Union amateur champion, a local legend here in Bray and easily one of Ireland's all time sporting greats.
She has been a pioneer for women's boxing in Ireland since the age of 15, when she fought in Ireland's first officially sanctioned women's fight. She has also been one of the main faces in the movement to get women's boxing accepted as an Olympic sport for the 2012 Games in London.
In the words of Niall Kelly of The Score:
'If she was a Youtube video, she'd be The Dark Knight Rises – the most eagerly anticipated event of the summer'.
So who will you be watching over the next few weeks? Will it be Bolt? Phelps? Perhaps young Tom Daley (who is competing in his second Olympics at only 18)?
As easy as it is to get caught up in the media hype that surrounds the more well-known names in the Olympics, it is well worth remembering that there are many athletes outside of the well-resourced sports-dominant countries such as USA, China, UK and Russia that have struggled through civil wars, social discrimination and shockingly low living standards (let alone training facilities) to get to London 2012. In my opinion, it is they who deserve our support as much as, if not more than, the Chris Hoys and the Maria Sharapovas.
The motto of London 2012 is to 'Inspire a Generation' – and that is what Olympians do: inspire people. When it comes to Olympians like Marial, Tejeda, Niyonshuti, Shaherkani, Attar and Taylor, it's not just about the medals and the glory, it's about getting somewhere in life that you never thought possible; about reaching a goal and paving the way for others behind you.
We all have our favourites, but I know who I'll be cheering for.
Special mentions…
Special mention to Im Dong-Hyun for South Korea who is taking part in the shooting event, but is legally blind and wears nothing to correct his sight
Also, Malaysian Nur Suryani Mohamed Taibi [see video below] who is competing in the women's shooting event, who is 34 weeks pregnant!
Source: Malaysia's great expectations | 25 July 2012 | BBC Report
Cover image used at top of page: Nick J Webb | Opening Ceremony Fireworks | 27 July 2012 | Flickr