Former UK Prime Minister Margaret Thatcher died a month ago. But what's her legacy? Was this champion of personal wealth, privatisation of state industry and spokesperson for free-market economics justified in her policies? More than 20 years later the costs of her convictions are still being debated around the world.
See this good roundup of 'alternative' reactions gathered on the Dóchas blog. Some highlights include this Fela Kuti inspired No, Africans don't remember Margaret Thatcher fondly on the Africa is a Country blog, an assessment of the Iron Lady's impact on international development at Devex and Top 10 ways Margaret Thatcher's policies made our world more unequal by Juan Cole at Informed Comment.
The spring 2013 issue of Policy & Practice: A Development Education Review is out. Issue 16 is themed on A Critical Analysis of North-South Educational Partnerships in Development Contexts. All articles online, including reviews, viewpoints.
Ireland's new vision for International Development has been published!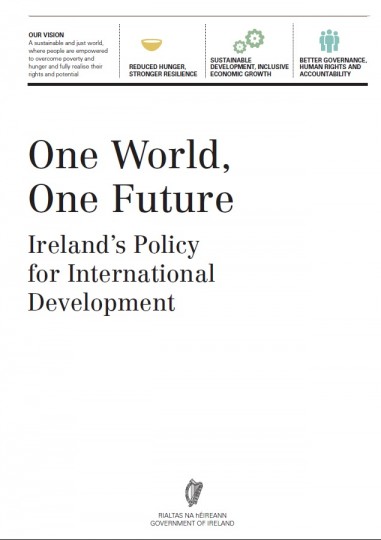 It's taken over two years, 160 written submissions and 1000 members of the public and development stakeholder discussion groups later but we now have Ireland's new policy for international development, published last week One World, Our Future by Irish Aid (the Government's official aid programme administered by the Department of Foreign Affairs and Trade). We'll be looking at the 44 page paper more closely in the weeks ahead. Here's a nifty animation laying out the values and ideas behind the new vision for a sustainable and just world:
Documents: Our World, our Future is available in English and Irish. 5 page executive summary for the short version. The short short version:
Ireland's engagement will be planned around three goals in the years ahead:

Goal 1: Reduced hunger, stronger resilience

Our top priority continues to be reducing hunger and vulnerability, and building people's resilience to natural and other disasters. Under this goal, we seek to ensure that the links between hunger and other development challenges, such as environmental protection and gender inequality, are better understood and acted upon with the urgency that they require.

This will also enable us to focus more on countries that are facing humanitarian crises, those in situations of fragility and those recovering from conflict.

Goal 2: Inclusive and sustainable economic growth

To achieve a sustainable solution to poverty, countries need to generate their own revenues through sustained and equitable economic growth leading to employment, revenue growth, trade, investment, and enhanced human wellbeing. Under this goal, we seek to work strategically in countries to advance pro-poor economic growth and sustainable development, supporting efforts that respond effectively to climate change.

Goal 3: Better governance, human rights and accountability

Stronger governance, the pursuit of human rights – including gender equality – and better accountability are powerful drivers to ensuring the reduction of hunger, the building of resilience, and the promotion of inclusive and sustainable growth. Under this goal, we support the building of better governance and accountability, and the protection and promotion of human rights, throughout all of our work.

Priority Areas for Action

In order to deliver on the goals six priority areas for action will guide our aid spending and our policy engagement:

1.     Global Hunger
2.     Countries that are fragile (See our work in Sierra Leone and Liberia as well as how we work in Emergencies)
3.     Climate Change and Development
4.     Essential Services including Education, HIV and Aids, Health and Social Protection
5.     Trade and Economic growth
6.     Human rights and Accountability