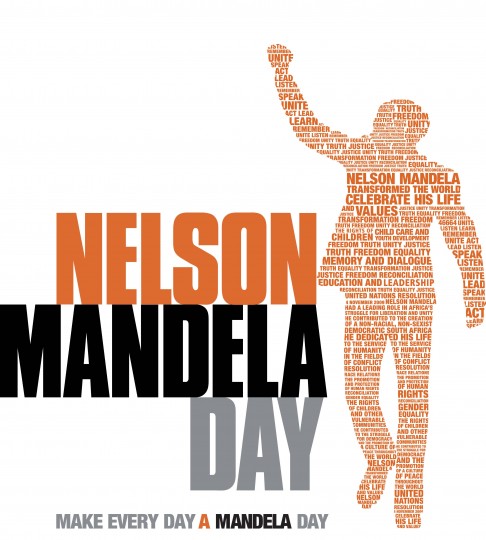 Today is the 5th annual Nelson Mandela Day, since it's inauguration in 2009 on Nelson Mandela's birthday – the 18th of July. Today he turns 95.
The Mandela Day Website states that this day is a call to action for people everywhere to take responsibility for making the world a better place, one step at a time, as Mandela himself did. The objective is to inspire individuals to take action to help change the world in doing so to build a global movement for good. It ultimately seeks to empower communities everywhere:
"Take Action; Inspire Change; Make Every Day a Mandela Day…"
On the website, there is a platform for sharing activities carried out by people/groups/individuals to commemorate the day and Madiba's vision to spread justice and freedom for all.
The main emphasis of the day is a celebration of our collective power to do good and make an imprint on the world. There are 67 suggested ways to change the world on the 18th of July this year – and each year. These include anything from helping an elderly neighbour, to talking to family and friends about HIV or even volunteering at your local soup kitchen or for a local cause.
For 67 years Nelson Mandela devoted his life to the service of humanity – as a human rights lawyer, a prisoner of conscience, an international peacemaker and the first democratically elected president of a free South Africa. By sparing 67 minutes of your time in being active in your community you are joining others in celebrating the spirit of Mandela's legacy.
However, each of these 'ways to change the world' is divided into seven sub-categories which I can't help but feel deserve much more emphasis than the acts themselves; seven categories which could be used as a general philosophy for everyone that would truly commemorate Mandela's vision for the world:
Think of others – not just your family, friends or neighbours, but others in the world and how your actions may impact on them
Help out for good health
Become an educator  – "Education is the most powerful weapon you can use to change the world", Mandela
Help those living in poverty – "overcoming poverty is not a task of charity, it is an act of  justice" – Mandela
Care for the youth – they are our future (if you'll excuse the terrible cliché)
Treasure the elderly – without them, we would not have achieved as much as we have in the world today
Look after the environment – the next generation doesn't want to inherit the planet only to be told 'Here, it's broken. You fix it'
Despite being a controversial figure historically and being denounced as a terrorist, it is this vision for which he is known; A vision of justice and freedom for all.
The motion picture of Mandela's Long Walk to Freedom telling the story of the iconic anti-apartheid South African President's life will be released in January 2014. But for now, here is a sneak-peek of Idris Elba as Mandela.
Watch this space as we'll be publishing more on Mandela, apartheid and the anti-apartheid movement soon on www.developmenteducation.ie