'First, never will even the most impressive television footage properly capture the depth of fear and despair felt in the homes and hearts of Gazans who are yet again facing death, devastation and displacement. Thousands of parents today have no more answers to give to their young children when they are asked why their houses are shaking or breaking under the weight and relentless force of the bombardments.

Second, we must be careful about the endless enumeration of casualty numbers. The dead and injured in Gaza are not anonymous. Behind the figures lie multiple individual destinies now torn apart.  Too often in their lives have Gazan civilians been denied their dignity. Anonymity in death or injury is the ultimate denial. It is also too comfortable for the world and the parties engaged in the hostilities. Palestinians are not statistics and we must never allow them to be treated as such. They are human beings like others in the world, with their identity and the same hopes and expectations for an improved future for their children.'
This significant reminder by UNRWA Commissioner-General Pierre Krähenbühl during a press briefing on July 14th regarding events in Gaza highlighted an important but all too often forgotten reality.  Behind the statistics and the propaganda, the claims and counter claims, the talk of 'terrorists, self-defence and security' are the lives (and now the additional deaths) of Palestinians (overwhelmingly) and Israelis (no less important for their limited number).
Recent events are a grotesque reminder of a conflict that has rumbled on for over 60 years (see the BBC's timeline) especially for the 5 million plus Palestinian refugees in the West Bank, Gaza, Jordan, Lebanon and Syria.  Although the figures are (inevitably) contested, it is generally accepted that some 15,000+ Palestinians and Israelis people have died since 1948 (for a detailed discussion, see this Global Avoidable Mortality blog post written in May 2006.
In the context of recent events, readers/users may find the following annotated list of (selected) websites useful in terms of background, analysis, links and perspectives.  The list is in no way, comprehensive or complete; nor does it come devoid of criticism; it is offered as a starting point to stimulate discussion and debate.
Two good places to start are: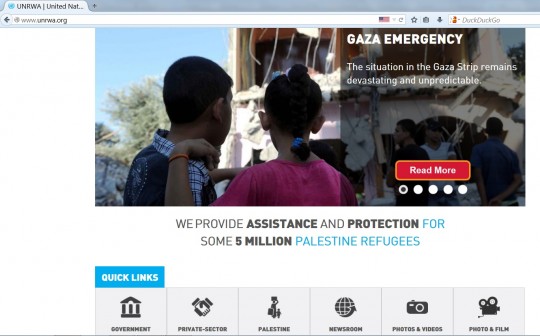 United Nations Relief and Works Agency | https://www.unrwa.org
The official site of the United Nations Relief and Works Agency (established by the UN General Assembly in 1949, following the 1948 Arab-Israeli conflict to carry out relief and works programmes for Palestine refugees; its current mandate has been extended to 2017). The site contains analysis and commentary on current issues (e.g. Gaza July 2014), a useful film archive, facts and figures in Palestinian refugees and basic demographics.
B'Tselem – The Israeli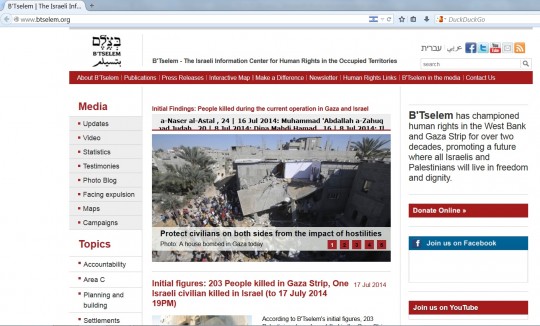 Information Center for Human Rights in the Occupied Territories | https://www.btselem.org
Maintained by one of Israel's most respected human rights NGOs; offers a large body of material including videos, testimonies, photoblogs, maps and analysis; also offers an overview of key topics such as settlements, the 'separation barrier', demolitions, restrictions on movement etc.  The site also analyses crucial issues such as the water crisis in Gaza and the West Bank (has an excellent background briefing) and how the current discriminatory situation flouts international law.  Also has an extensive annotated set of links to an additional 17 Israeli human rights sites.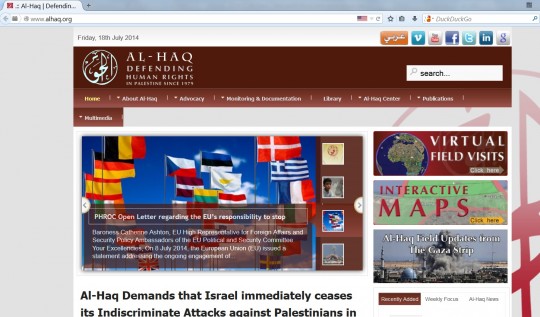 Al-Haq | https://www.alhaq.org
An independent Palestinian NGO based in Ramallah, West Bank; established in 1979, Al-Haq is recognised by the United Nations Economic and Social Council. The site contains extensive reports and analyses of current and key events (on Gaza, population, the Separation Wall, Jerusalem and a number of downloads including one on water discrimination.
Legal Centre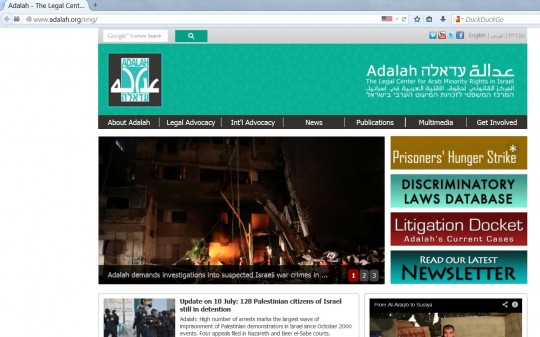 for Arab minority Rights in Israel | https://www.adalah.org/eng
Site maintained by the Legal Centre for Arab minority Rights in Israel; contains a series of useful special reports on issues such as discriminatory laws, home demolitions, family reunification issues, attacks on human rights organisations and a series of briefing papersetc.  Adaleh.org also has a limited multi-media section.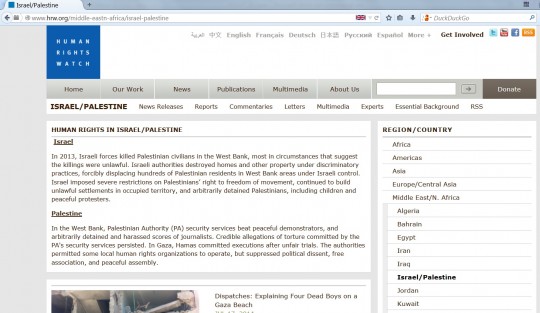 Human Rights Watch | https://www.hrw.org/middle-eastn-africa/israel-palestine
Independent US based international human rights NGO; the site has many detailed reports on a range of key issues such as land, human rights violations, threats to migrants, the illegal use of white phosphorous, discrimination against Palestinians in the Occupied Territories etc.
Palestinian Centre for Human Rights |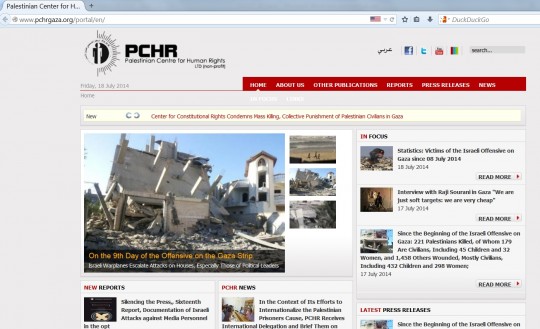 https://www.pchrgaza.org/portal/en
One of the best known Palestinian rights organisations set up in 1995 by a group of lawyers; the site carries a series of 'In Focus' briefing on key issues such as the War on Gaza, detailed legal human rights issues, debates on the Goldstone Report etc.  There is also a set of special reports and briefing papers on additional issues such as the impact of events on children, education, health, women's rights etc.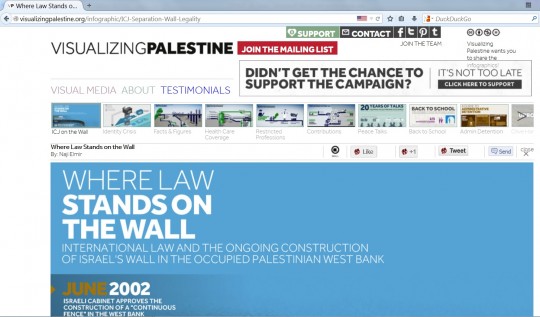 Visualizing Palestine | https://visualizingpalestine.org
Independent, pro-Palestinian site focusing on providing first class infographics on the conflict; designed and supported by a network of researchers, designers, and activists based in Ramallah, Amman, Beirut, London and Paris; has a strong justice and human rights perspective.  The site reviews a large range of issues from the Separation Wall to water discrimination, restricted professions for Palestinians, the peace talks, displacement etc.
Israeli Ministry of Foreign Affairs |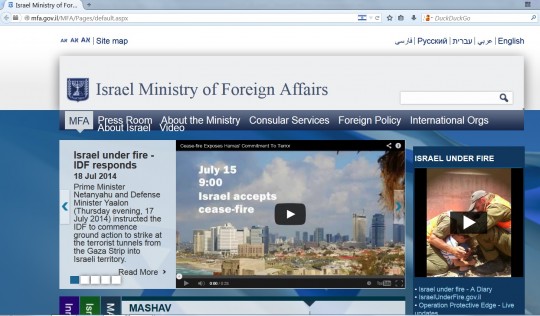 https://mfa.gov.il/MFA/Pages/default.aspx
The official site of the Israeli Ministry of Foreign Affairs; it contains useful background information on Israel's history, its land, peoples and culture and a particularly useful section on historical documents and treaties etc.  It also contains updates on the Israeli Government's views on the current situation including briefings on issues such as the impact on children in Israel, the targeting of 'houses' in Gaza etc.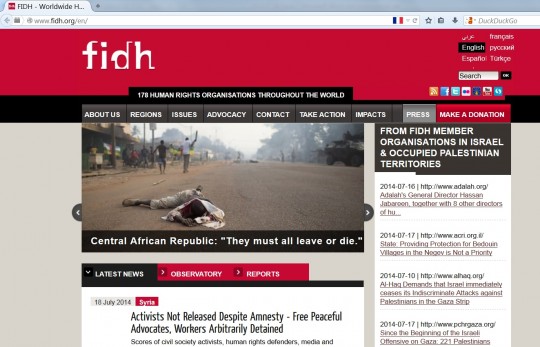 International Federation for Human Rights | https://fidh.org
Excellent international human rights site maintained by the International Federation for Human Rights (FIDH); has a comprehensive section on North Africa and the Middle East which provides human rights focused commentary and analysis on the current situation in Gaza and the Occupied Territories.  The site also contains detailed reports from member organisations in the area reporting on current events.
Association for Civil Rights in Israel |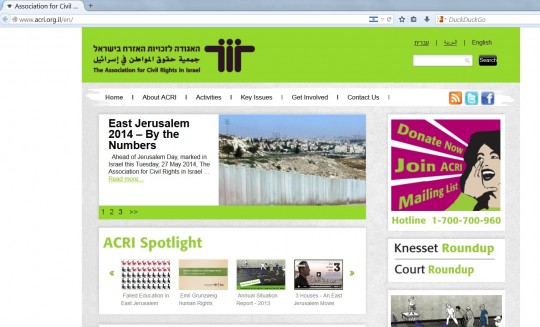 https://www.acri.org.il/en
The Association for Civil Rights in Israel was established in 1972 and is the oldest and largest human rights organisation focused on the broad range of all rights and civil liberties issues in Israel and the Occupied Territories; it is independent and non-partisan.  The site has a wide range of reports, analysis and briefings on issues such as housing, education, migrant rights, freedom of expression, children rights and social and economic rights etc.  There is also considerable information on discrimination against Israel's Arab minority.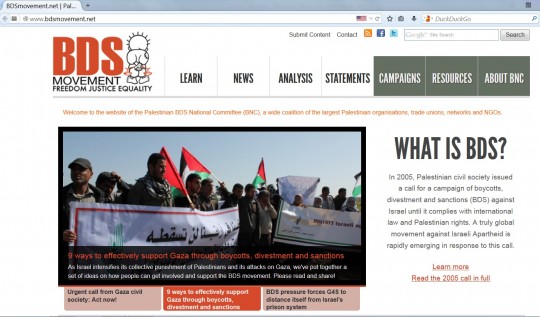 Boycott, Divestment and Sanctions | https://www.bdsmovement.net
There have been many campaign responses to long standing conflict between Israel and Palestine. One of the widest campaigns to date has been the global movement for a campaign of Boycott, Divestment and Sanctions against Israel until it complies with international law and Palestinian rights. The campaign is coordinated by the Palestinian BDS National Committee (BNC), made up of over 170 Palestinian organisations, established in 2007. The campaign has drawn many responses as its effectiveness and its strategic direction, both from supporters, dissenters and outright critics.