Two quotes and a graphic for International Women's Day.
President Michael D. Higgins (May 24th, 2016) Women and Girls – Catalysing Action to Achieve Gender Equality at the World Humanitarian Summit, Istanbul:
'A healthy society is, by definition, unachievable if it is based on the marginalisation of women and girls'
Fareda Banda (2013) Women, Human Rights and Development, in: Realizing the Right to Development Essays in Commemoration of 25 Years of the United Nations Declaration on the Right to Development. UN Office of the High Commissioner for Human Rights, pp. 149-158:
 'Women's equal right to development has been called a universal good. However, the realization of their right to development is beset by challenges rooted in the inequalities that pervade their lives. For women, the right to development does not simply require consideration of how income poverty, understood as lack of money and resources, influences their ability to enjoy their human rights; human poverty, in the sense of women's lack of voice and participation in decision-making within their families and societies, also impacts upon their lives and further reinforces their powerlessness.'
Infographics on gender parity across the world: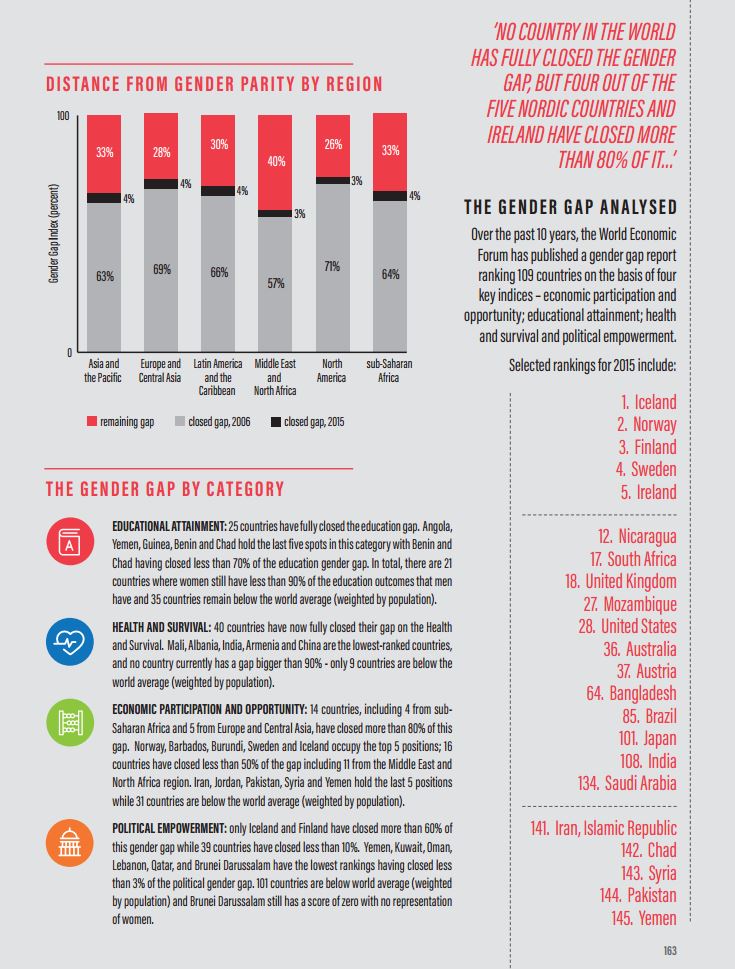 Source: The above graphic and quotes are from Chapter 8 'Women, Development and (dis)empowerment' of the recently published 7th edition of 80-20 Development in an Unequal World 7th (by this author), 80:20 Educating and Acting for a Better World and the New Internationalist.