Nelson Mandela was born a century ago on July 18th, 1918. You are all familiar enough with his life story not to require any re-telling here. Of all world leaders of my generation, he stood head and shoulders above all others; his was the greatest impact; he was the most profound at so many levels and he remains the most inspiring. And, his story made history and we, in Ireland were part of that history.
To mark his anniversary, we refer (selectively) to some very recent resources which may be of interest and use in educational settings. There is an endless list Mandela focused resources and a very interesting and useful place to begin to see what's out there is The Nelson Mandela Foundation website (check out the Heart of Hope website in particular).
(No doubt you've all read Long Walk to Freedom his now world famous 1994 autobiography but if you haven't seen it, you must watch the film of the same name with Idris Elba as Mandela).
As ever, I can't resist referring you to the brilliant Specials Mandela 'Anthem' – 'Free Nelson Mandela'.
To mark his centenary, Kilmainham jail has organised an exhibition Nelson Mandela: From Prisoner to President (booking is required). The exhibition was opened by President Higgins and his speech is (as usual) inspiring and insightful, especially on Ireland's role (especially the Anti-Apartheid Movement's contribution – part of what I like to label 'unofficial Ireland's contribution). The speech is available online along with a podcast (29 mins). Two quotes:
'Thinking about the connections between Ireland and South Africa and our separate but related journeys towards freedom and justice, it brings to mind an Irish saying that I find myself often returning to: "Is ar scáth a chéile a mhaireann na ndaoine" which literally means that we live in each other's shadow or, to put it another way, we rely on each other for shelter. Scáth means both shadow and shelter – our impact on each other can be positive or negative' (the President does development education really well!).
'There is a moral lesson to be drawn from the reluctance and hesitancy there was to condemn apartheid. It reflects what Seamus Heaney might have called 'a collaboration of the silent'. In our times we cannot be silent on the absence of forms of international collaboration as would achieve what has been in the aspirations of so many freedom movements – justice, equality, real freedom, cohesion' (there's so much more in the speech worth pondering).
On the book front, his prison letters have just been published (The Prison Letters of Nelson Mandela, edited by South African journalist and author Sahm Venter and published by Liveright). 250 prison letters (initially just two letters per year, no politics allowed and a max of 500 words) reveal his fierce belief (even when the viciousness and inhumanity of Apartheid officials was all to evident, especially on the death of his son Thembi) that his power lay in behaving as far as possible as if that hated regime did not exist.
Fourteen years into his life sentence (almost 10,000 days before his release), in 1996 he noted that the hours during which he wrote, "were the only time I ever feel that someday in the future it'll be possible for humanity to produce saints who will really be inspired in everything they do by genuine love for humanity." His fundamental humanity shines through in so many of the letters here.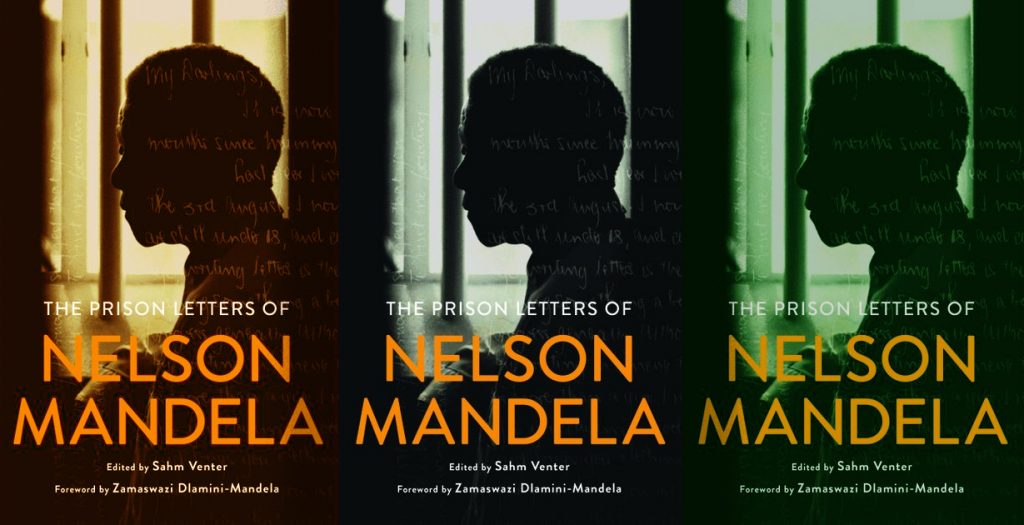 What is clear from the letters is that a sustaining belief in the liberating power of education. His letters to home frequently seek information his children's education. In a telling moment (to which the quote at the head of this blog refers, he sent a letter to a bookshop in Johannesburg asking for books to be sent to his children (Upton Sinclair's The Jungle, Hemingway's For Whom the Bell Tolls and Steinbeck's The Pearl). The head warder scrawled a handwritten note across his letter – 'this sort of thing is not allowed'.
One key 'takeaway' from the letters
Mandela's eloquence matched by his fundamental principles.
'I detest white supremacy and will fight it with every weapon in my hands', he noted to a senior prison official in a letter of grievance, 'but even when the clash between you and me has taken the most extreme form, I should like us to fight over principles and ideas and without personal hatred, so that at the end of the battle, whatever the results might be, I can proudly shake hands with you because I feel I have fought an upright and worthy opponent who has observed the whole code of honor and decency. But when your subordinates continue to use foul methods then a sense of real bitterness and contempt becomes irresistible'.
To conclude, back to President Higgins at Kilmainham:
'We face many challenges in this new century, many of them sourced in the very same injustices that Nelson Mandela sought to overcome: the terrible dangers presented by anthropogenic climate change, which threaten the livelihoods and very lives of so many people globally but in the Global South most immediately; the moral imperative of welcoming all those fleeing war, famine, natural disasters and persecution; and the threats to social cohesion and solidarity presented by vast inequalities in income, opportunity, wealth and power between and within nations'.