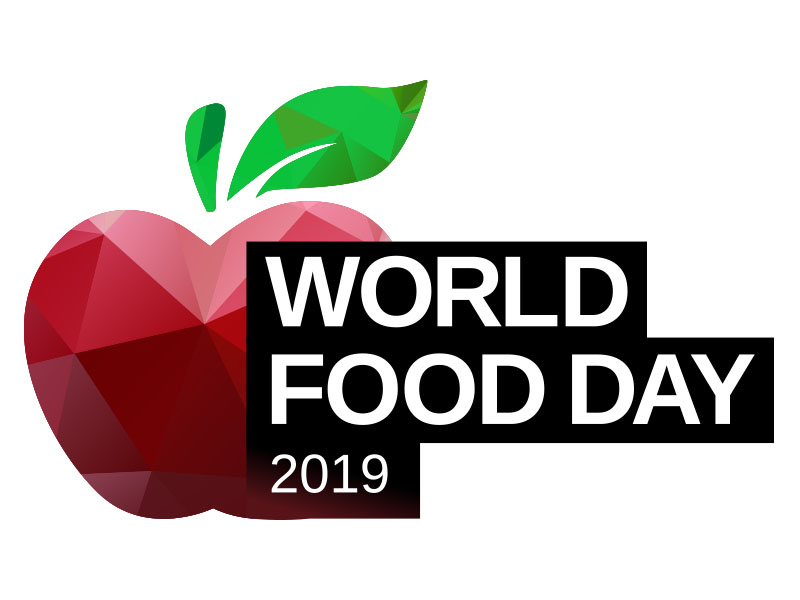 As part of the World Food Day series, Toni Pyke looks at what has changed since World Food Day 2018, and what the countries are most effected by food crises.

The official theme designated by the UN for World Food Day 2019 focuses on a healthy and sustainable diet, and for an holistic approach to action, Our Actions are Our Future: Healthy diets for a #zerohunger world:
"Achieving Zero Hunger is not only about addressing hunger…but also nourishing people, while nurturing the planet. This year, World Food Day calls for action across sectors to make healthy and sustainable diets affordable and accessible to everyone. At the same time, it calls on everyone to start thinking about what we eat".
Last year, the state of the food crisis in Yemen was described by the UN as 'the worst famine in the world in 100 years'.  In 2019, Yemen is still the worst humanitarian crisis in the world.
The 2019 Global Report on Food Crises report, Prepared collectively by 12 leading global and regional institutions under the umbrella of the Food Security Information Network, highlights the plight of millions of people who must fight every day against acute hunger and malnutrition.
The report states that more than 113 million people across 53 countries experienced acute hunger and required urgent food, nutrition and livelihoods assistance.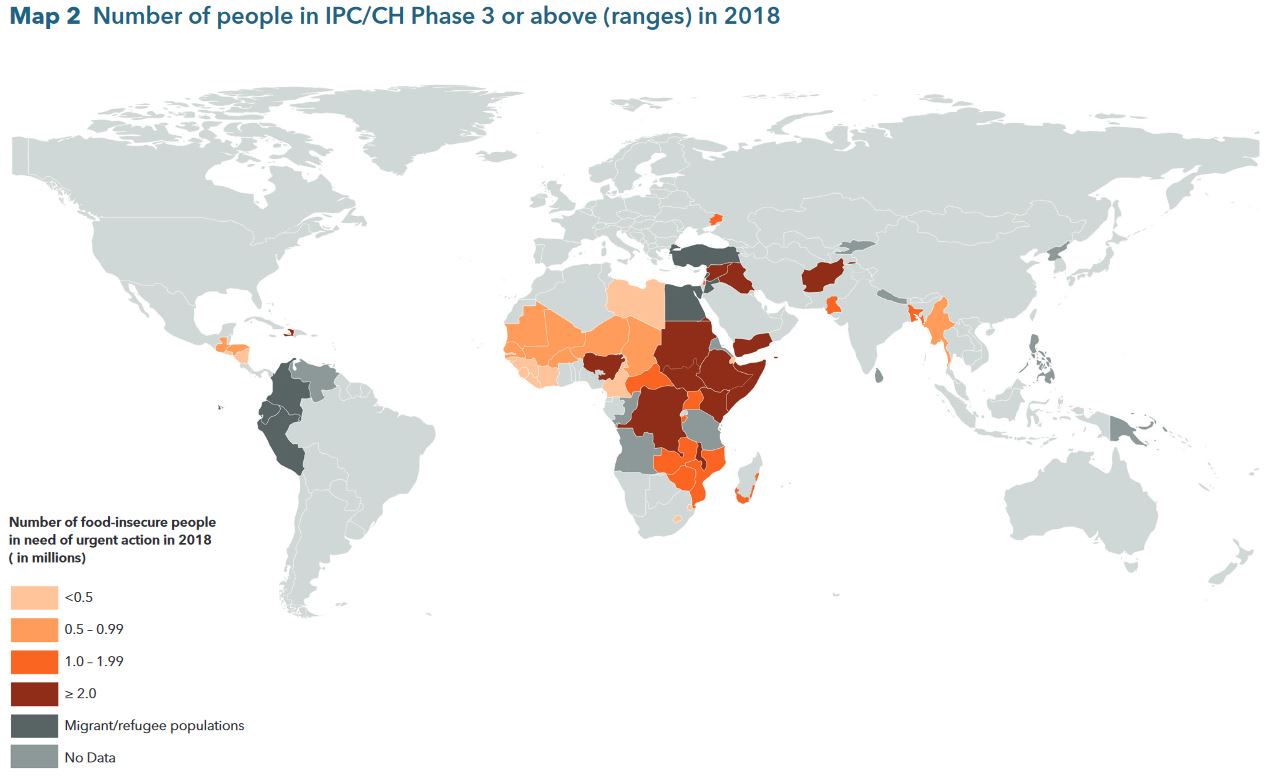 The worst food crises in order of severity in 2018, were:
Yemen
Democratic Republic of the Congo
Afghanistan
Ethiopia
Syrian Arab Republic
Sudan
South Sudan
Northern Nigeria.
These eight countries accounted for two thirds of the total number of people facing acute food insecurity – amounting to nearly 72 million people.
The figure of 113 million people represents a slight improvement over the number for 2017 presented in the Global Report on Food Crisis (2018) in which an estimated 124 million people in 51 countries faced acute hunger.
Despite the slight decrease over the past three years, the report has consistently shown that, year on year, more than 100 million people (2016, 2017 and 2018) have faced periods of acute hunger. The modest decrease between 2017 and 2018 is largely attributed to changes in climate shocks.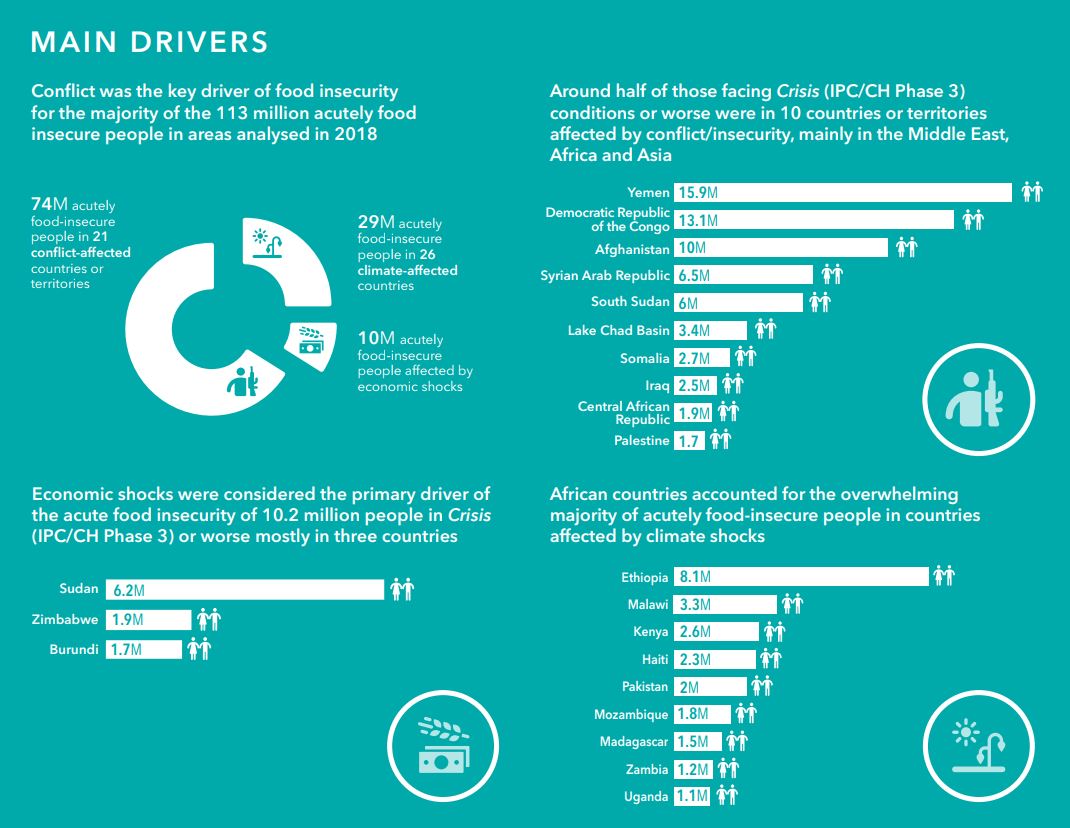 Yemen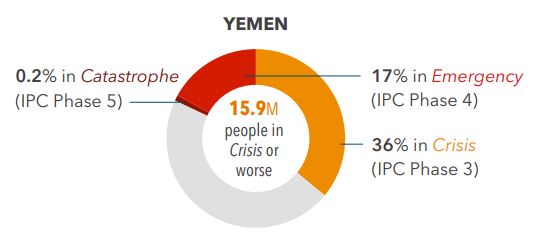 More than 20 million Yemenis are food insecure, with nearly 10 million people on the brink of famine and starvation. Two-thirds of all districts in the country are already 'pre-famine'. A first-ever assessment in the country confirmed that 65 000 people are in advanced stages of hunger and extreme food deprivation. In addition, there are 238 000 people in 'IPC Phase 5' (Integrated Food Security Phase Classification of which 5 is the most acute: Famine/Humanitarian Catastrophe) who will face similar conditions if food assistance is slightly disturbed.
Democratic Republic of Congo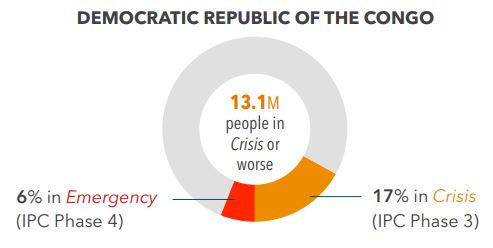 DRC is now the second largest hunger crisis in the world after Yemen. It is the second largest country in Africa, ranking 5th of 178 countries on the 2019 Fragile States Index, placing it in the highest category of risk ("very high alert").
The number of food-insecure people almost doubled from 7.7 million in 2017 to 13.1 million in 2018, making access to food a daily struggle for a significant part of the Congolese population.
An estimated 5 million children are acutely malnourished.
The 2016 Cost of Hunger in Africa study found that undernutrition costs the DRC 4.6 percent of its Gross Domestic Product (GDP) – equivalent to US$ 1.7 billion – every year.
Afghanistan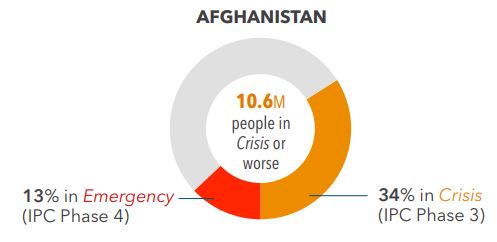 Over half of the country's population lives below the poverty line, with food insecurity on the rise, largely due to conflict and insecurity.
About 13.5 million people are severely food insecure – 6 million more than in 2017. Undernutrition is critical among women, children, displaced people, returnees, households headed by women, people with disabilities and the poor.
Despite progress in recent years, undernutrition rates are now increasing and the prevalence of stunting in children under 5 remains high at 41 percent at the national level, with peaks of 60 to 70 percent in some provinces. In 2018, that number was much higher, with the country experiencing its worst drought in over a decade.
Ethiopia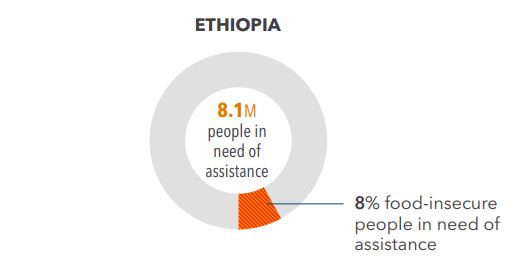 Ethiopia is experiencing its second severe drought in less than two years. Insufficient rainfall during the 2017 rainy season has led to severe water shortages, catastrophic livestock losses, and failed crops throughout the country.
In August 2017, the Government of Ethiopia estimated that 8.5 million people in the country would require humanitarian assistance, primarily due to increased drought-related needs in southern and south-eastern parts of Ethiopia. Food insecurity rates have surged, now affecting 8.5 million people – up from 5.6 million in January 2017. Malnutrition rates show 3.6 million children and pregnant and lactating women projected to develop moderate acute malnutrition and 376 000 children facing severe acute malnutrition. At the regional level, the number of severely food insecure people has increased to approximately 12 million, in large part as a result of the drought
South Sudan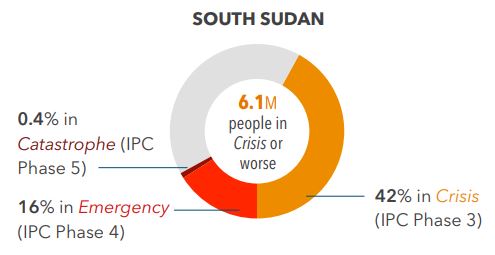 South Sudan is in the midst of a catastrophic humanitarian crisis driven by over four years of  civil war. Harvests in late 2017 were poor or non-existent for many. Trade and local markets have been disrupted and food stock has depleted. Over 7.1 million people – half the country's population – are facing extreme and deadly hunger. Hunger and malnutrition levels are at historic high levels. As at January 2019, some 7.1 million people were in need of humanitarian assistance. Some 6.3 million or 54 percent of South Sudan's entire population do not know where their next meal will come from as hunger peaks during the lean season from May to July.
Syrian Arab Republic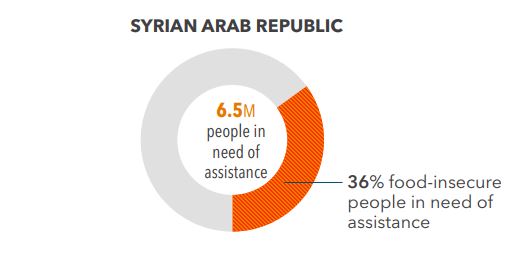 From the beginning of the conflict in 2011, the number of people in need of humanitarian assistance has risen to 11.7 million people.
Of these, 6.5 million people are acutely food insecure, while an additional four million are at risk of slipping into food insecurity if not assisted adequately.
Sudan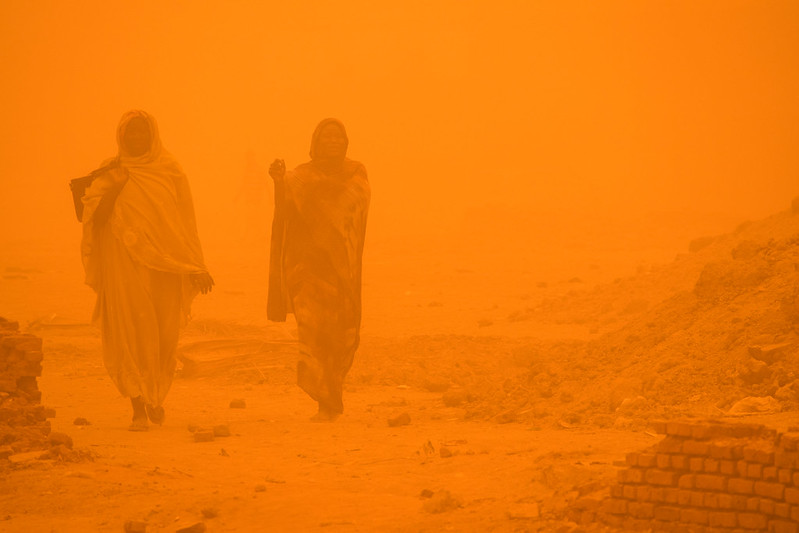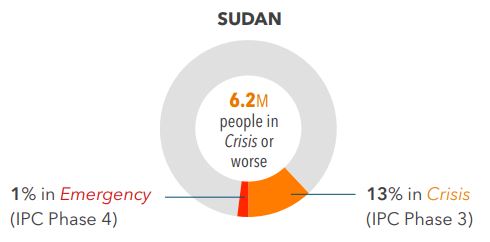 Chronic food insecurity in Sudan threatens lives, livelihoods and stability. Due to prolonged conflict, environmental deterioration and other disasters such as drought and floods, many of Sudan's people are at risk of food insecurity.
Some 6.1 million people faced "crisis", "emergency" or "catastrophe" levels of food insecurity (IPC Phases 3, 4 and 5) at the peak of the lean season in July to August before the harvest in 2018 some 1.2 million children under five years of age severely malnourished.
Global Acute Malnutrition rates were over 20 per cent – above WHO's 15 per cent emergency threshold. The government Food Security Technical Secretariat (FSTS) estimates that in 2018, some 4.8 million people are living at crisis or emergency levels of food insecurity.
According to the Ministry of Health of the 2.47 million children and PLW suffering from wasting (Global Acute Malnutrition – GAM) annually in Sudan, some 694,000 suffer from Severe Acute Malnutrition (SAM). In 2018, 11 out of the 18 states have a malnutrition prevalence of above 15 per cent.
As of September 2019, there are 8.5 million people identified as in need of humanitarian assistance – up from 5.7 million in January of the same year.
The number of food insecure people has almost doubled to 6.3 million, with up to 1.8 million children suffering from Moderate Acute Malnutrition, and a further 689,000 with Severe Acute Malnutrition.
Currently 2.35 million people remain internally displaced and with little resources and sustainable solutions to rebuild their lives. Additionally, Sudan is hosting up to 1 million refugees from neighbouring countries, mainly South Sudan.
Northern Nigeria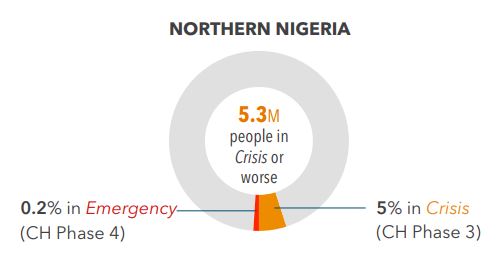 Nigeria is the 10th largest producer of crude oil in the world and achieved lower-middle-income status in 2014. However, conflict in its Northeast region has displaced 1.92 million people and left another 7.7 million in need of humanitarian assistance.
Persistent poverty affects more than half the population, most severely in the Northeast and Northwest regions.
Nigeria is subject to periodic droughts and floods which have had adverse effects on agricultural output and increased the vulnerability of populations, especially in rural areas.
Around 110 million Nigerians, representing over 60 percent of the total population, live below the poverty line. Some 14 million people are requiring humanitarian assistance.
The insurgency by Boko Haram has exacerbated problems in the region, leaving it further impoverished and facing a severe lack of food. The insecurity has left many farmers unable to plant or harvest their crops.
In Borno state, 5.8 million people face extreme food and nutrition deficits, a figure that has doubled in the past year.
Featured image: Sand storm near Khartoum, Sudan. Source: Jedrek B, March 29, 2018 via Flickr (CC-BY-NC-2.0)
This post was prepared as part of the World Food Day 2019 series brought to you by the Professional Development Support Service for Teachers (PDST), Concern Worldwide, Self Help Africa and developmenteducation.ie