What does history have to say about the present? What can we learn from how we engaged with global justice and human rights issues in the past to strengthen our activism and impact TODAY? Do you remember:            
… striking against Apartheid in South Africa?
…drafting a joint letter from students to supermarkets in support of coffee producers in Central America?
…forming a local group to discuss climate justice and what county councils can do?
developmenteducation.ie and the Irish Development Education Association present 'Has Your Auntie Got the T-shirt?': Irish Global Solidarity in 100 Objects – a history of Irish education and action on international issues and campaigns.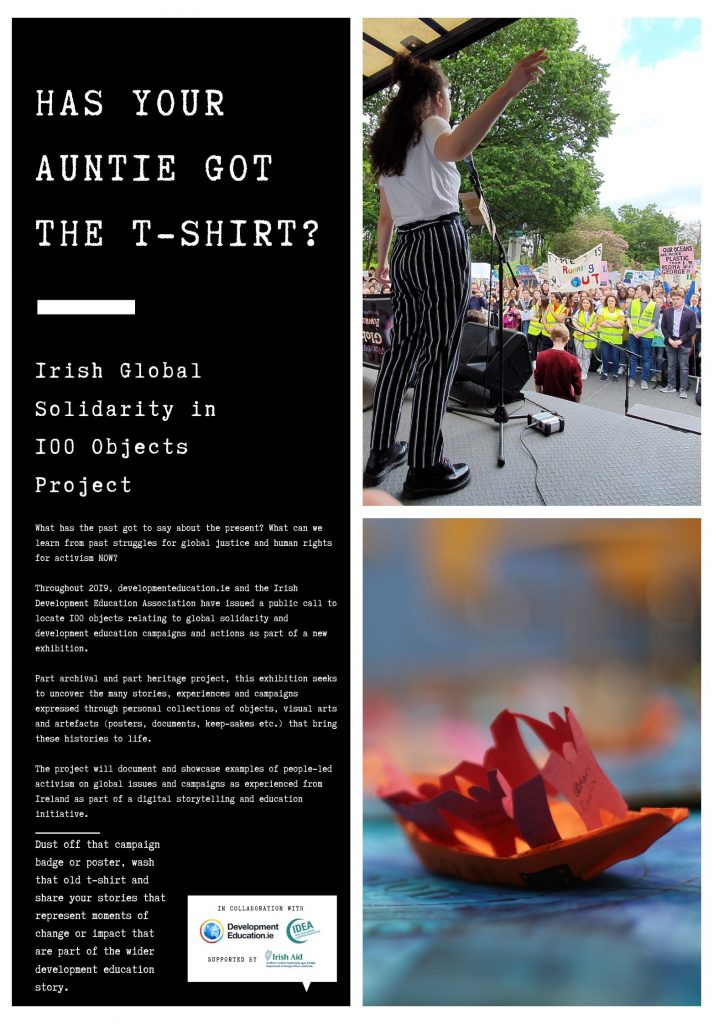 Showcasing the strong heritage of global citizenship in Ireland, it uncovers the many contributions, stories and campaigns, expressed through artefacts and visual arts that bring these histories to life.
Gathered through an open call, the objects provide snapshots of Irish engagement with global cultural, political and social issues over the past 5 decades. They, highlight the range of action taken by people and organisations in Ireland to tackle global justice issues, making this a unique opportunity to explore and learn from the past and we are asking YOU to share these objects with us for our exhibition in January.
If you have anything you would like to see included in the project, please do send us an email (ciara@developmenteducation.ie) and let us know.
Submission deadline: November 30th, 2019***
Submissions will be safeguarded on short-term loan to the project and returned after the exhibition.
Download the call for submissions poster.
Irish Global Solidarity in 100 Objects will include an exhibition in January 2020 in Dublin, a programme of workshops and public events and a digital storytelling portal.