Could you be an Energy Marshall? Access the full suite of Energy Bandits digital flyers, stickers and posters in building your campaign to tackle energy waste.
What began as a school-wide initiative in Presentation College, Bray, Co. Wicklow, in partnership with developmenteducation.ie, has generated many conversations over the last year with young people, parents, teachers, principals and many others interested sustainability, energy use and related issues.
One year on, the Energy Bandits are staging a come-back.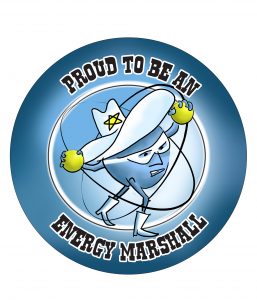 What else could we do but widen the availability and ideas of the project to anyone with an interest in tackling sustainable livelihood issues and energy use on their doorstep?
We invite educators, community groups and students alike to consider developing their own campaigns to save on energy waste and make a difference in your spaces, whether they be a school, a shared office space or at home.
Sign-up below to access the 30 project digital assets for free and create mischief and green conversations, whether you're working on going green as part of a clean energy drive or a Green-Schools project.
The digital assets include:
10 digital flyers
10 posters (A2 and A3 use)
10 stickers (for printing)
A Marshall Plan for the environment needs deputies.
Keep us posted by on Twitter, Facebook with the tag #EnergyBandits (or sending on photos/stories etc.) on your energy waste campaign progress!