Resource Title
10 Myths About Climate Change
Summary
How much do you know about climate change?
Take a look and explore 10 popular myths about everything from clean energy to global warming and avocados.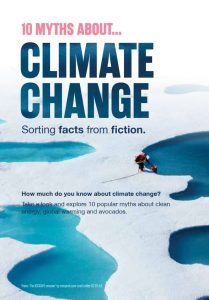 Description
There is a need to work together across countries and campaigns to generate ideas as we seek creative solutions to turn down the heat on a warming planet and lead low-carbon friendly actions. This involves all of us. Busting classic climate myths in lunchrooms, canteens and boardrooms is a good start."
This pocket-size booklet includes:
Why does thinking about climate change matter
10 short myths about the science of climate change, electric cars and 'food miles'.
Links to the Sustainable Development Goals and education for sustainable development
References per each myth following a true/false and explainer approach
The 10 Myths About…. series looks to sort facts from fiction on key global development, human rights and justice issues.