Resource Title
10 Myths About Global Waste
Summary
How much do you know about global waste?
Take a look and explore 10 popular myths about global waste (such as e-waste, agricultural waste and plastic waste), consumption and production.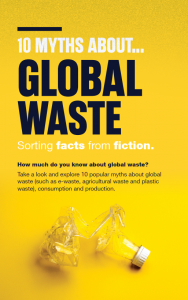 Description
It is a startling reality that much of the material output generated by the world since the Industrial Revolution is still with us – despite what we may think, it hasn't gone away."
This pocket-size booklet includes:
Why thinking about global waste matters
10 short myths about waste, quick fixes (is recycling and turning off light switches enough?) and 'sustainababble'
links to the Sustainable Development Goals (Goal 12 Consumption and Production) and education for sustainable development
references per each myth following a true/false and explainer approach
Produced with special thanks to the Junior Cycle for Teachers (JCT) Geography Team.
The 10 Myths About…. series looks to sort facts from fiction on key global development, human rights and justice issues.
Available from:
Download 10 Myths About Global Waste PDF (1MB)
For the latest fact checks and factsheets more on the fact checking project and development ideas,
issues and debates, visit our What The Fact? project.