Resource Title
10 Myths About Women's Rights
Summary
How much do you know about women's rights in the world today?
Explore 10 common myths about progress on women's rights, the impact of crisis situations on women and representation in politics.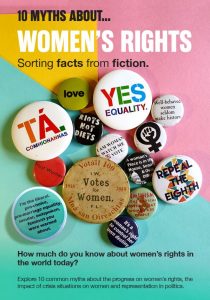 Description
Gender-based inequality is one of the most enduring and deep-seated discriminations. It affects all regions, classes and sectors. In most countries, it is maintained and defended in most of the same ways. One key component of that maintenance is a set of myths that are repeated time and time again."
This pocket-size booklet includes:
Why thinking about women's rights matters
10 short myths about progress on equality, who benefits from feminism, the realities of women's health and the impact of COVID-19.
Links to the Sustainable Development Goals
References per each myth following a fact or fiction approach and an explainer
The 10 Myths About…. series looks to sort facts from fiction on key global development, human rights and justice issues.