Resource Title
A Debt Pandemic – Impact of the Crisis in Developing Countries
Summary
This set of 10 slides show the growing levels of public debt, it's impact on vulnerable communities and possible solutions in an interactive, but data-driven way. Some prior knowledge of how debt works is required.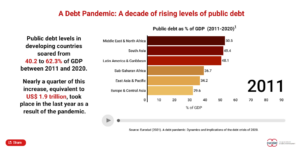 Resource Details
Country of Publication:

Belgium

Year:

2021

Page Count:

10
Description
These slides were prepared for the Civil Society Organisations' Briefing for the United Nations meeting of Heads of State and Government on the International Debt Architecture and Liquidity Financing for Development in the Era of COVID-19 and Beyond on March 29th 2021.
They require some understanding of what debt is and how it works. However, the bulletpoints and interactive graphs are particularly helpful in highlighting the inequalities between regions, and showing how much public debt levels have increased, the impact this has on the most vulnerable and what can be done to solve it.