Resource Title
A Human Rights Perspective on Development
Summary
The resource presents a human rights perspective on the issue of development. It provides an alternative 'lens' with which to view traditional responses and ways of thinking and acting to development challenges. It defines human rights, analyses international human rights law and links human rights to development and development to human rights.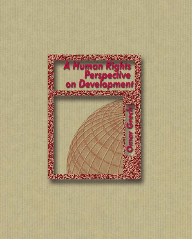 Resource Details
Author:

Omar Grech

Country of Publication:

Ireland

Year:

2006

ISBN:

9780953513680

Page Count:

26
Description
Despite its size, this 26-page booklet is packed full of information. It begins by briefly defining 'what are Human Rights' and how they differ from other rights.  It outlines the development of International Human Rights Law and the right to development, focusing on the UN Declaration of Human Rights.  It then interprets a development perspective on human rights and alternately a human rights perspective on development.  The booklet concludes with a look at how we can measure development through human rights and the difficulties surrounding the implementation on the right to development.
Big Ideas in this Resource
Explores development through a human rights perspective
Presents the argument that every individual has human rights by virtue of being a human being
Identifies the importance of the right to development in realising all other human rights
Human rights have shifted the debate on development from a 'moral and charity perspective' to a rights one within a legal framework
Further reading: references included in the resource.