Resource Title
Activist Toolkit: climate justice campaign
Summary
This resource approaches Climate change as a human rights issue. The toolkit aims to enable activism on climate justice in various ways. The focus is on Ireland, but activism on a global scale is also encouraged. Background and context information is presented throughout the resource, as well as understandable and achievable activism ideas.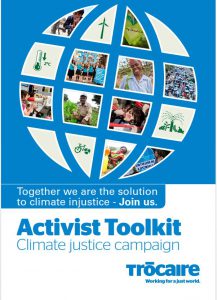 Description
"Climate change is the greatest injustice of our time. The people who are doing least to cause it are suffering the most. Those with most power to address it have so far failed us."
Concise and peppered with illustrations and graphics, this resource covers all major topics relating to climate justice. Contents:
What is an Activist
The causes and effects of climate change
The argument for climate justice response
What needs to change in Ireland
How to demand that global leaders act
living and consuming more sustainably
Getting your politician to support climate justice
Top tips for meeting your politician
Get your community involved
The ideas are presented in an attractive and easily readable way. The variety of activities means there is a greater change that there will be 'something for everyone' in this toolkit.
Note: the Climate Justice toolkit was developed as part of Trócaire's Climate Action campaign.