Resource Title
Africa Also Smiles: a cross curricular resource about the African Continent
Summary
A cross-curricular post-primary resource that explores the 'successes and strengths' of the African Continent. Activities examine the perspectives, images, people and regions across Africa.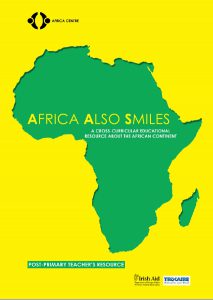 Resource Details
Author:

Rebecca O'Halloran, Mbemba Jabbi and Thabi Madide

Publisher:

Africa Centre

Country of Publication:

Ireland

Year:

2012

Page Count:

56
Description
A 56-page activity pack exploring the continent of Africa in a positive frame.
Includes student activities, worksheets, quizzes, wordsearches, information sheets, debate exercises, teacher background information and teaching methdologies.
The resource is divided into 5 key sections exploring different dimensions of the topic:
Let's Discover Africa
Enjoying Africa
African inspirations (such as inspiring African people)
Out of Africa
Africa Also Smiles (questioning and debating media images and reporting)
Active learning methods are supported throughout, such as human bingo, class debate, group brainstorm, audit of NGO images, audit of the Africa Also Smiles campaign, think pair share etc.
This resource is strong on media portrayals and reporting and on 'African' perspectives
More information on the Africa Centre, its activities and other educational resources can be found at www.africacentre.ie
For the location and library holding details of the Africa Centre visit www.developmenteducation.ie/maps