Resource Title
Bank of Actions for Global Citizens
Summary
The Bank of Actions guide can be used by anyone looking for creative inspiration to take action as global citizens. It is designed as a toolkit for engaging the public in global justice issues in meaningful ways that can help bring about positive change in our world.
The Bank of Actions has been designed in the context of returned international volunteers participating in the Global Citizen Award programme.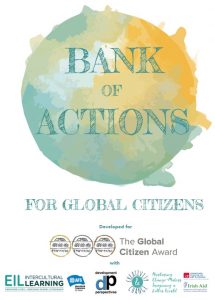 Description
Can actions influence positive change? What do I want my actions to do? What's the difference between charity and solidarity?
EIL Intercultural Learning, Creativity & Change and Development Perspectives engage with people who are interested in working in, learning more about, or sharing their knowledge about Development Education and the UN Sustainable Development Goals with others.
The guide also includes a wealth of ideas and suggested methods for thinking about actions that support global citizens based on real case studies that deep dive into how the actions worked, such as a photography exhibition, interactive performances, interactive showcase, street action, a public art project and more.
The three organisations came together to collaborate and share their experience of designing actions with this resource. It is divided into five sections:
Organisations

Development Education Action

Action Guide

Ideas for Dev-Ed Action

Support Tips.