Resource Title
Beyond Boarders: A toolkit of creative and participatory approaches for exploring refuge and migration issues in secondary school classrooms
Summary
Beyond Boarders was written in the context of a profound humanitarian crisis. In June 2018, the UNHCR released figures showing an increase of 2.9 million people who had been forced to flee their country to find safety – the biggest rise in a single year in the history of the organisation. How do we, as educators, respond to this? It aims to provide a range of creative and active learning methodologies for teachers wishing to explore some of the complex and heartrending issues around refuge and forced migration with students.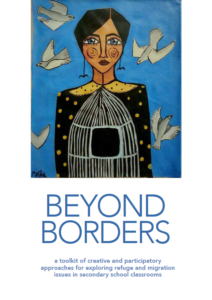 Description
This pack provides a range of creative and active-learning methodologies and links for educators wishing to explore some of the sensitive and complex issues around the refugee crisis. It is suitable for a range of subjects and will be of particular relevance to English, Geography, CSPE, RE, Art, History, and TY classes. It's hoped that this resource will be useful for teachers new to Education for Global Citizenship/Development Education, as well as those already deeply engaged with the issues.
Galway One World Centre provide
a balanced range of activities to explore these questions from Head, Heart and Hand perspectives,
provided background information to help combat myths and stereotypes and to deepen our understanding of the issues, as well as
opportunities to explore some of the feelings and emotions that arise, and, crucially, to consider some solidarity actions that have been undertaken by students.