Resource Title
Bitter or Sweet? A primary schools and Fairtrade action guide on chocolate, extreme poverty, child labour and climate change
Summary
This primary schools and Fairtrade action guide has a focus on cocoa, child labour, child poverty and climate change.
Primary Education and Fairtrade share a common purpose in promoting the well-being of individuals, communities and ultimately the planet. They seek to achieve this through developing awareness and critical understanding of patterns and trends in society (in this case as regards trade and consumption), debating their merits and demerits, exploring alternatives and choices. This action guide seek to encourage imagination and practical action on how the world can be made better in simple and yet far-reaching ways.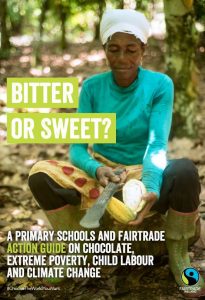 Description
We've all eaten a chocolate bar, but how many of us have eaten a Fairtrade chocolate bar? What does fairly traded chocolate look like? Fairtrade is about better prices, decent working conditions and a fairer overall deal for farmers and workers in developing countries. Fairtrade uses a two-pronged approach to work with farmers to become more resilient to climate change, whilst at the same time giving consumers, retailers and traders the opportunity to reduce their carbon footprint.But with just six percent of the world's cocoa currently being Fairtrade, we can't secure better incomes and better livelihoods for farmers on our own."
This guide for Senior Primary Education:
explores development issues with a focus on cocoa and chocolate including child poverty, child labour and climate change
offers a series of everyday actions that build further on previous successes
introduces the international Sustainable Development Goals agenda
links with the Fairtrade Fortnight campaigns, Fairtrade schools and beyond
offers 6 activities linked to senior primary learning outcomes and a set of action activities
lists a range of support materials including videos
This action guide integrates with the senior primary curriculum areas Geography, Mathematics and Social, Personal and Health Education.