Resource Title
Caring for Our World: the Our World Irish Aid Awards 2015
Summary
The theme for 2015 in Irish Aid's flagship primary schools development education Our World Awards is linked to all of the eight MDGs, but has particular relevance to MDG 7: ensure environmental sustainability.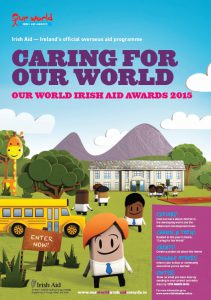 Description
Our World Irish Aid from DESIGN FOR LIFE on Vimeo.
"Around the world, countries are working together to fight poverty through the 8 Millennium Development Goals. While progress has been made, significant work remains to be done. In our world of 7 billion people, 1.2 billion are still living in extreme poverty, with many of these in sub-Saharan Africa and in some parts of Asia.

Pupils participating in the Our World Irish Aid Awards are invited to think about children living in these countries, and the importance of the eight MDGs as a way to improve lives and a means of empowering these children to lift themselves out of poverty and hunger. The Awards ask children in Ireland to envisage and contribute to a better future for all the world's children."
The theme for this year's Our World Irish Aid Awards is around MDG 7: Environmental Sustainability on the environment and 'caring for our world' which ties in with Education for Sustainable Development (ESD) learning objectives and is also a precursor for the UN Sustainable Development Goals which will be agreed later in 2015 at the UN and will run to 2030.
The supporting website includes:
lesson plans for teachers.
attractive worksheets for pupils.
links to videos on the 'Female Food Heroes' story with Andrea Corr in Tanzania,  which is a main feature this year.
a helpful 'Do' and 'Avoid' guide is included under the Teaching About Poverty and Development in the Teachers Section.
a dedicated Downloads Centre.
What the judges of the awards are looking for
Our panel of judges spend a lot of time carefully reviewing all the hard work of each and every school. Schools all over Ireland show us how they have brought the world into their classroom in their own creative ways, and our judges love to see that creativity shining through. They will award projects which show that pupils have:
Gained a good UNDERSTANDING for their age and class level of development issues (please see Teaching About Poverty and Development below)
Explored the LINKS between their lives and the lives of children living in developing countries* by using the Our World Awards lesson plans provided on this website or other development education materials (see the Resources & lesson plans below)
Considered WHAT CAN BE DONE at a local, national or global level to improve the lives of children around the world
WORKED TOGETHER, thought critically about the issues, empathised with others and investigated global problems and solutions
Been CREATIVE and original
Considered what is being done to alleviate poverty – this might come from a project supported by Irish Aid or by a development organisation working with governments and/or communities in developing countries.
Reached an AUDIENCE beyond the classroom through a presentation, event, newsletter etc. – for example the wider school community, local community or local media etc
Available from:
Visit the fully supported website https://ourworldirishaidawards.ie which includes:
Downloads:
To register for a pack, or if you have any other enquiries, please call the Our World Irish Aid Awards Project Office on (01) 5224834, or email ourworld@realnation.ie and a member of the team will be delighted to help you with any aspect of your project.