Resource Title
Challenging The Crisis: Survey on attitudes of young adults towards global development and social justice
Summary
The EU member states have been badly affected by the 2008 economic crisis, with some countries finding it particularly challenging to respond and recover. In times of austerity it is easy to focus on the crisis at home and not consider wider global issues.
To investigate whether this is the case among young people in the most indebted EU countries, the Challenging the Crisis partners conducted this survey research to assess their level of engagement with issues of global citizenship and global justice.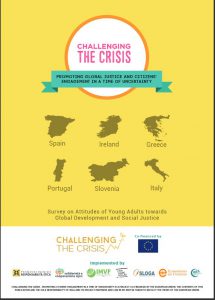 Resource Details
Author:

Associazone CReA and Meliosa Bracken. Contributions from: Amárach Research, Eamonn Casey, Sergio Aguado Divar, Andreyna Caires, Konstantinos Ionnidis, Marjan Huan and Polona Subotia

Country of Publication:

Ireland

Year:

2015

Page Count:

50
Description
This report outlines the views of young people, aged 15 – 34 from Portugal, Ireland, Italy, Greece, Spain and Slovenia, on international development, and their understanding of related concepts and issues.
The aim of the research was to assess whether global solidarity and development aid are priorities for European youth in a time of economic and political crisis and high unemployment.
The findings of the survey show:
"Solidarity with those living in poorer countries continues to be very strong amongst young people from the EU countries most harshly affected by the financial crisis."
The findings inform the Challenging the Crisis campaign and will underpin the agendas and developments of young people from the focus countries as active advocates for international development and global justice.