Resource Title
Chinya: CSPE module exploring development interdependence and rights & responsibilities through a global lens
Summary
Chinya is a comprehensive 16 page CSPE (Civil, Social and Political Education) module exploring development, interdependence and rights and responsibilities through a global lens.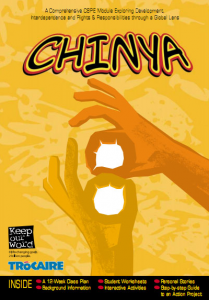 Description
This resource has been written to assist secondary students in exploring the issue of development from a global perspective. The two main focus points of the resource are Malawi and the Millennium Development Goals (the MDGs). In Chinya, the MDGs are used as tools to explore poverty and development. Malawi, as a case study, provides a lens through which the students can look at the realities of poverty and development.
The resource contains a 12-week lesson plan, background information on the issues explored, student worksheets, activities, personal stories and a step-by-step guide to an action project.
Suggested Use: Stimulus material, introduction to global perspectives and making young people connect with them.