Resource Title
Choc-a-lot: A chocolate flavoured resource to explore the global trade in cocoa
Summary
This 55 page resource contains a collection of activities based on the production of chocolate. The activities are designed to be carried out in a workshop – for youth/community educators – but can also be adapted to suit a classroom environment.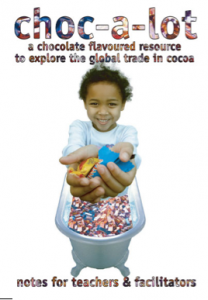 Description
Choc-a-lot has a number of activities designed to be used in groups to enable young people to explore what is really happening in the chocolate industry. A number of facts are given in the pack in order to challenge young people to look at their own attitudes as they explore the global chain from cocoa growers to big chocolate companies (or chocolate capitalism
The pack includes the Choc-a-lot workshop programme, instructions and resources from each activity, methods of evaluation, background information, further resources and useful contacts and websites.