Resource Title
Climate Change, Climate Justice: Lent 2015 education resource packs for schools
Summary
Ethiopia is the focus country for the Trócaire's 2015 education campaign during Lent and explores how climate change impacts on the lives of people living across Ireland and Ethiopia.
The Climate Change Lenten education campaign is designed for online use (via whiteboards) and offline use (all material downloadable) and is suitable for anyone interested in teaching around climate change issues.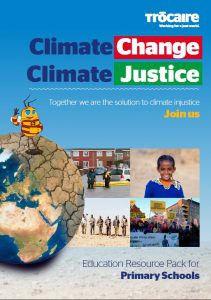 Resource Details
Curriculum Subjects:

Art, Craft and Design, Civic Social and Political Education, Education for Sustainable Development, Geography, Irish, Media Studies, Religious Education, Social Environmental and Scientific Education

Formats:

Activity Pack, Animation, Documentary, Game, Photographs, Poster, Powerpoint, Video Clip, Website, Whiteboard
Description
What is climate change and why is it happening?
Does climate change impact everyone in the world equally?
This series of resources are divided into three main themes for educators and groups to work on:
Climate Change
Climate Justice
Becoming a Climate Justice Champion!
Each of the activity books includes fully illustrated teacher briefing notes, classroom activities, activity sheets (for display or for printing) and icons with cues to get downloads and see helpful facts.
A vast pool of resources is available to teachers across a range of age groups and learning levels. These include:
Teacher notes.
Religious education teacher notes.
Photo galleries of climate in and outside of Ireland.
Documentary video and animation stimulus materials.
Useful 'How to' guides on using materials such as videos, newspapers etc in the classroom
Photo, newspaper, class art mural and video activities.
Downloadable material (and info on how to download the material for those who would like to use it offline).
Suggested actions that student can take on their journey to becoming activists to think globally and act locally.
A case study of Trócaire's work in Ethiopia for groups to learn about and engage with.
Includes an innovative Webquest activity inviting students to use the whiteboard website to explore a series of tasks, questions and recommended external websites and take group decisions on how they will present their findings.
Available from:
The following resources are also available from the dedicated whiteboard website https://www.trocaire.org/education/lent2015 as well as further downloadable material. Print versions of resources are also available on request.
Download primary school resources:
Download post primary resources:
Other resources:
Calculate how long it would take you to go from Ireland to Ethiopia by foot or by car on Google Maps