Resource Title
Climate Change
Summary
This 28 page resource on Climate Change has been written for second level Geography teachers and their students and focuses on 3 key issues as regards to climate change; Understanding climate, Consequences of Climate Change and; International Agreements. The resource then goes on to proble the question, 'what can be done?'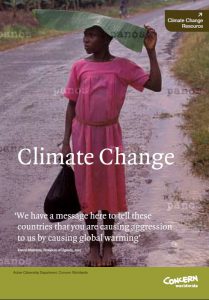 Resource Details
Author:

Fran Brady

Publisher:

Concern Worldwide

Country of Publication:

Ireland

Year:

2008

ISBN:

9780952450641

Page Count:

28
Description
Climate Change is divided into three manageable and informative sections. Using graphs, photographs, illustrations and facts, Climate Change aims to broaden secondary level student's knowledge on the issue. Section one  – Understanding Climate – explores the different terminologies and definitions under the term 'climate'.  It also focuses on what human activities have contributed to global warming and climate change including unsustainable use of energy, transportation etc.
Section two focuses on what the consequences of Climate Change are (storms, environmental refugees, drought, poverty, food (in)security etc). More importantly, section two focuses on the impact of these consequences for the developing world in the form of 6 different case studies.
Section three poses the question of 'what can be done?', which looks at international agreements such as the UN Framework Convention on Climate Change and Kyoto Protocol.  It also explores a number of examples of sustainable solutions – including day-to-day actions – as well as climate change campaigns.
Suggested use: Background information, stimulus material to the issues surrounding climate change
Further Reading
Other publications from Concern's Campaign Resource series:
Other climate change resources: