Resource Title
Connecting Cultures – Sustaining Our World: Lessons Learnt Toolkit
Summary
The Lessons Learnt toolkit is a helpful collection of ideas and experiences to support and assist Global Citizenship Education, social inclusion and Adult and Community Education practitioners who work with individuals seeking refuge and asylum in Ireland, with a focus on Ukrainian participants. Its is based on workshops, ideas and views shared by people who took part in the Connecting Cultures programme.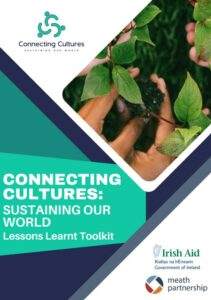 Resource Details
Author:

Global Citizenship & Integration Team

Publisher:

Meath Partnership

Country of Publication:

Ireland

Year:

2023

Page Count:

28
Description
"In Ireland, there are more than 45 accommodation centres in 22 counties. County Meath alone is home to over 1,500 migrants, asylum seekers, and refugees, many in rural areas with limited transportation. As such, we believe it is our responsibility to provide them opportunities to integrate into society and reduce the physical and psychological feelings of isolation. In response to the global climate crisis, we have partnered with sustainability focused and environmental organisations to provide volunteer opportunities. This collaborative approach aims to address the root causes of exclusion and environmental degradation, leading to positive and transformative change."
This toolkit provides guidance on how to use Global Citizenship Education (GCE) to make a positive impact on society, culture, and the environment. It includes practical advice and lessons learned from the 'Connecting Cultures: Sustaining Our World' programme.
Through the use of this toolkit, educators can access useful information and tools to improve their work with diverse communities. It aims to empower educators and help them better understand how GCE can bring positive changes to the lives of people seeking refuge and asylum in Ireland.
This toolkit includes ideas for developing active citizenship training programmes, empowering minority voices, how to include good practice recommendations on organising volunteer placements. It also includes activities on language, interpretation and to support understanding participants from Ukraine and cultural diversity (such as Ukrainian, Russian, Jewish and Belarusian ethnic groups).
The toolkit is organised into 4 sections:
Getting to Know Your Target Group
Empowering Active Citizenship

Volunteering Engagement

Recommendations
Available from:
Download Connecting Cultures – Sustaining Our World PDF