Resource Title
Connecting Cultures – Sustaining Our World: Fostering Integration Through Global Citizenship Education
Summary
This report outlines the current mechanisms that support integration in county Meath in Ireland and the impact volunteering can have on transformative change. The findings will form the basis for the provision of training to ACE practitioners to increase their awareness and understanding of GCE, which will empower them to identify their unique contribution as global citizens.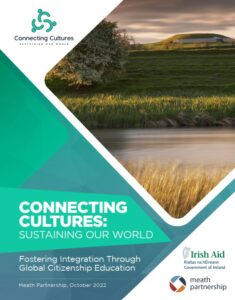 Resource Details
Author:

Global Citizenship & Integration Team

Publisher:

Meath Partnership

Country of Publication:

Ireland

Year:

2022

Page Count:

31
Description
The overall aim of the project which this report contributes directly towards is to support Adult Community Education (ACE) practitioners and migrants/asylum seekers/ refugees (primarily living in direct provision centres) to engage in GCE training with a specific focus on the environmental pillar of the SDGs. Liaising with Meath Volunteer Centre, the project will support volunteer placements with community-based environmental organisations in County Meath.
The report is organised into three sections prepared as an accessible report for a range of readers and audiences.
Section One of this report provides an outline about Global Citizenship Education (GCE) internationally and the Irish position and discusses the current situation regarding direct provision in County Meath and supports available throughout the county. It also introduces the Sustainable Development Goals from social inclusion perspectives.
Section Two discusses and present the findings of a survey of the three target groups for this project: Migrants/ refugees/asylum seekers; ACE practitioners; Volunteer Centres and set out the next steps of the project.
Section Three presents the findings of the survey and issues 6 recommendations to foster integration through global citizenship education.