Resource Title
Counted Out: Challenging Poverty and Social Exclusion
Summary
Resource focused on issues of stereotyping and labelling, poverty, rights, community, international poverty, credit unions and self-help groups, action projects. Designed for use at junior cycle level, this resource can be adapted for many age ranges and groups in formal education and youth education more broadly.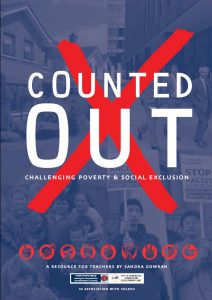 Description
The resource is in five main sections. Each section describes the aims, concepts, attitudes, knowledge and skills involved in the particular section and recommends certain activities. It is not expected that a teacher will work through the resource with their students from beginning to end, although it is possible to use it throughout the three years of the CSPE programme.
It is expected however, that teachers will carry out some or all activities from Section 1 prior to any of the other sections. These activities are designed to develop students' understanding of the concept of poverty as it manifests itself in Ireland today.
This resource aims to:
develop transferable skills to other subjects and areas of life, including analytical, communication, identification, and action skills
increase understanding of the nature and extent of poverty and social exclusion in Ireland
increase students understanding of the causes of poverty in Ireland today and to engage them in analysing responses to poverty
foster attitudes of respect, understanding, and empathy towards people experiencing poverty, and/or social exclusion
develop awareness of actions taking place to combat poverty
explore ways in which students might be involved in a process of change by engaging with anti-poverty/community development initiatives in the community of the school
develop in students a sense of belonging and an understanding of active citizenship in terms of its importance for a just and equal society.
This resource also includes a detailed analysis of poverty in Ireland; packed with information and references; details on poverty focused organisations in Ireland and abroad
Curriculum links
This resource is designed for use primarily in Civic, Social and Political Education (CSPE). However, it can be easily adapted for use in other subjects either at junior or senior cycle.
In piloting this resource teachers have used it successfully in various subjects adapting the suggested methods and content to the particular curricular needs of the subject. Therefore, cross-curricular use of this resource is strongly encouraged.
It is particularly suitable for use in Religious Education, senior cycle Home Economics, Social Education in
Leaving Certificate Applied, and Transition Year amongst other subjects and programmes.