Resource Title
Doing Development Education Through a Global School Partnership
Summary
These guidelines aim to support Global School Partnerships (GSP), which are relationships between a school in Ireland and a counterpart school in the Global South that is based on joint learning, equity and respect.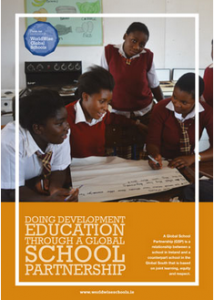 Description
This resource provides guidelines for initiating and strengthening global school partnerships. It is based on WorldWise's supporting role for schools engaging in a GSP, particularly in terms of how to
facilitate joint learning between both schools as part of study visits (exchange visits, immersions etc.).
Structure
Top tips for getting started with a Global School Partnership
CASE STUDY Presentation College Carlow and Kaoma Community School
TABLE: Stages of Global School Partnerships
WorldWise Global Schools Partnership Agreement Template
How to find a partner school
Note: WWGS provide training for teachers to plan and develop their partnerships, as well as pre-departure training for those teachers undertaking a visit to or hosting a visit from their partner school.