Resource Title
Development Education in Ireland. Challenges and Opportunities for the Future.
Summary
This research, commissioned by Dóchas, seeks to provide an updated overview and analysis of the current level of activity for development education in Ireland. Arising from this, the research seeks to identify and make recommendations regarding the gaps, needs and opportunities from within the development education sector for planning strategic interventions.
The research sought to collect qualitative and quantitative information from all groups, organisations and agencies active in development education (253 identified).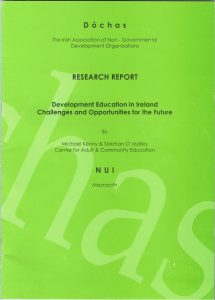 Description
Resource Description
'The greatest difficulty we have in describing Development Education in Ireland in the present day is that the picture is so mixed. Measured in terms of activity there is a broad and significant network of groups active in promoting development education in both the formal and non-formal sectors, yet many of these groups are not confident of their impact, their sustainability or their place in the 'bigger' development education picture.'
The outcome of this research, also known as the Kenny Report, is a document that:
quantifies the range, extent, impact and potential of the development education sector on the island of Ireland
notes the significant achievements of and impact of the sector and glimpses the opportunity for the sector, with strategic direction and leadership, to place both the content and process of development education firmly within community based education in Ireland
strengthens the significant impact of development education on consciousness raising, on wider world awareness and on informed action for global and local justice.
The following recommendations are put forward in this report:
that the development education sector should take a leading role in the development of a strategic plan for development education in Ireland
that development education stakeholders promote a national and transnational inclusive dialogue on the nature and context of development education
that the development education sector take a leading role in instituting a model of 'best practice' that promotes the highest standards in all aspects of development education work