Resource Title
Drought in East Africa whiteboard resources
Summary
This web page is a portal for primary school teachers wishing to educate students on the drought in East Africa during 2011. Whiteboard enabled, this short resource explores the causes and consequences of famine through activities using audio, video and quiz sheets. Case studies about people effected by the crisis are included, as well as fact sheets on countries in East Africa with downloadable maps and interactive diagrams.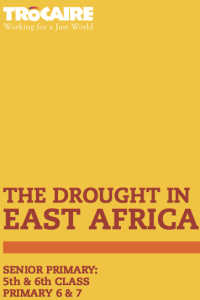 Description
This short whiteboard resource explores issues relating to drought, famine, food and the geography of the crisis in East Africa. Designed as a teacher resource for primary schools, it uses Trócaire's responses to the crisis in order to illustrate actions as stories for pupils to explore and engage with.
Through the use of photographs, audio & video stories, plus maps and interactive diagrams teachers are presented with a range of learning tools to use in the classroom.
Big Ideas in this Resource
During food shortages supporting food programs by charities, for example, offer a good short term solution to severe malnutrition
The causes of drought are usually linked to more than one reason, such as population growth, and are usually made worse by the presence of different factors all occurring at the same time.
Young people have an important role to play in understanding and speaking out about the food emergency and climate change to friends, family and in their school
Find out more here: www.trocaire.org/resources/schoolresources