Resource Title
Ethical Consumerism in European Education Toolkit
Summary
The Ethical Consumerism in European Education (ECEE) Toolkit provides background information and workshops of educators in the non-formal sector who wish to address issues of ethical consumption and fair trade with their learners.
Ethical consumption is an increasingly important issue with the European Union as our interconnections with communities around the world increase. The workshops and activities highlight actions that individuals can take toward the goal of sustainable consumption for all people.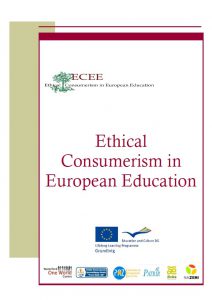 Description
The ECEE Toolkit contains 6 full-length workshops, 3 campaigns and 3 solidarity economy actions. It is available, free of cost, for download.
The resource focuses on how to motivate people to use their power as consumers for the betterment of society and addresses issues of fair trade, ethical consumption, trade justice and sustainable development. It seeks to:
promote sustainable consumption and;
provide practical advice and suggestions for educators and activists working in the field
This resource includes:
Worksheets, activities, background information, case studies and links to websites for further reading
Detailed facilitator notes
Detailed annotated links to campaigns and initiatives relating to ethical consumerism
Contents:
Workshop 1: Wants v Needs
Workshop 2: Fair Trade Principles
Workshop 3: Fair Trade v. Fair Trade
Workshop 4: The World in the Supermarket
Workshop 5: The Story of Stuff
Workshop 6: Forum Theatre
Campaign 1: Buy Nothing Day
Campaign 2: Fairtrade Bananas Campaign
Campaign 3: Fairtrade Breakfast
Shared Economy activity 1: Book 'Sale'
Shared Economy activity 2: Free Shop
Shared Economy activity 3: Free Seeds Market
About this resource: This toolkit was produced as part of a Grundtvig Learning Partnership which included partners from Ireland, Czech Republic, Romania, Poland, Spain and Slovakia.