Resource Title
Food Crisis in the Sahel: the crisis that refuses to go away
Summary
This 8 page briefing looks at the situation facing 18 million people across the eight countries most affected by the food crisis in the Sahel region of west Africa
It has been written for general reading on the issues and the nature of the crisis, of which Concern is directly engaged in.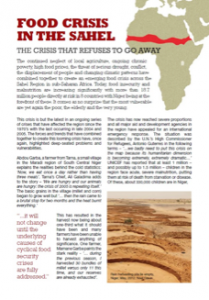 Description
Short briefing paper on the crisis in the Sahel in the west of Africa. It includes:
summary of the current situation in Niger, Mauritania, Chad, Mali, Senegal, Cameroon, Burkina Faso and The Gambia
debating the causes of the crisis
Concern's view of what needs to be done
summary of the core points from the recent Human Development Report for Africa (2012) for the Sahel region
Concern has been responding directly to the food crisis in the Sahel
since 2011
. This up to date briefing paper is suitable for general background reading on the core human development challenges and issues from the unfolding food crisis.