Resource Title
Food For Thought: Senior Primary Teacher's Resource
Summary
This downloadable resource provides Senior Primary educators with activities to introduce their pupils to the concepts of hunger and poverty.
Through exploration of the experiences of a young girl called Domitille growing up in Rwanda and her family's experiences, students will learn to celebrate, respect and value diversity.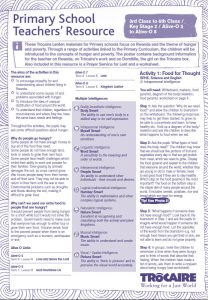 Description
This is a diverse resource linked to the Primary Curriculum that is case study driven through the lives of people studying, living and working in Rwanda.
Prepared as part of the Lenten campaign, the concepts of poverty and hunger are explored through the lives of children, people going to the market to purchase goods, a matron working at a health centre and factory workers and linked to lesson planning through 4 well developed activities.
This resource also seeks to encourage empathy for and understanding about children living in Rwanda, to introduce the idea of unequal distribution of food around the world and to understand that children, regardless of circumstances and where they live, have the same basic needs and feelings.
Included in this resource is a Prayer Service for Lent and a worksheet.