Resource Title
Global Goals (app)
Summary
The Global Goals app lets you choose a goal that matters to you and help put it on the map. Take pictures and videos to show off your piece of the world, then watch your impact grow as you voice is pinned on the Global Goals map next celebrities and other personalities from all around the globe.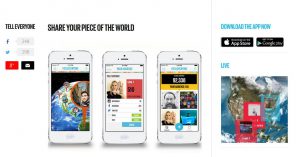 Description
This app shows you the impact you are making on your audience, so you can see how your contributions are helping make the world a better place.
What's more, it gives you access to hidden exclusive content, and keeps you in the loop with exciting Global Goals initiatives.
Share your piece of the world today #telleveryone
Features include:
Connect and combine your social media accounts to build your audience.
Share your piece of the world with a 360 video or photo
Geotag your video or photo and be instantly placed on the Global Goals map.
Track your personal impact on the Global Goals campaign
Monitor the progress of the global campaign.
Share global goal quotes, images and badges with people around the world.
Unlock hidden exclusive content from the world's first Global Cinema Campaign