Resource Title
Global South Resources: South Africa lesson plan
Summary
This is resource includes a series of activities that are designed for use with second-level students who are establishing a link with a school in South Africa or have already established the link but need more classroom support.
The activities focus on preparing students for a global learning experience and getting to know their peers in South Africa, as well as working with primary source materials and evaluating their accuracy.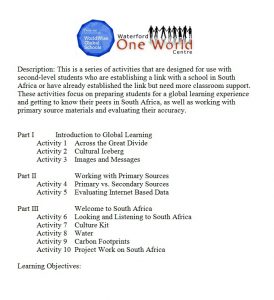 Description
As well as links to primary sources in South Africa (news articles, videos etc.) this resource includes strong evaluation components for peer-learning and ongoing assessment.
Learning Objectives:
Students will distinguish between primary and secondary sources;
Students will acquire and use skills to locate primary sources using the internet;
Students will critically examine internet sources to determine their validity;
Students will be introduced to South Africa through interaction with primary sources.
Contents list:
Part I    Introduction to Global Learning
Activity 1 – Across the Great Divide
Activity 2 – Cultural Iceberg
Activity 3 – Images and Messages
Part II   Working with Primary Sources
Activity 4 – Primary vs. Secondary Sources
Activity 5 – Evaluating Internet Based Data
Part III  Welcome to South Africa
Activity 6 – Looking and Listening to South Africa
Activity 7 – Culture Kit
Activity 8 – Water
Activity 9 – Carbon Footprints
Activity 10 – Project Work on South Africa
 Check out the annotation on the country lesson plans:
See our annotation on the supporting site Global South Resources by Waterford One World Centre