Resource Title
Glórtha Aiteacha / Queer Voices
Summary
This book is a resource for young people, especially LGBTQ+ young people (or those who think they might be). If you're not LGBTQ+, this book can be for you too. It might help you understand how it feels to be LGBTQ+, what your friends may be going through. Really, this book is for anyone who needs it.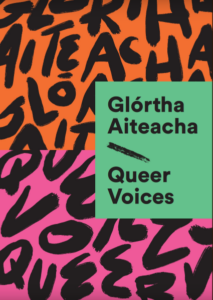 Description
This beautifully designed book contains stories, reflections and advice from LGBTQI+ writers, from many perspectives.
In these pages, Shoutout Ireland have brought together LGBTQ+ writers and artists to share stories, reflections, and advice that they needed when they were growing up.
We didn't really have stories like these when we were at school. It was very lonely at points. Lonelier still within the crowd, in a classroom, in a home. Being LGBTQ+ can feel like that at times: no matter how many people are around you, there's sometimes a sense of feeling miles away from others, distant.