Resource Title
Going Beyond the Symbols: Ethical Consumerism and Fair Trade for Youth Work
Summary
Going Beyond the Symbols: Ethical Consumerism and Fair Trade for Youth Work is designed to help youth leaders address these issues with their groups. The resource looks at ethical consumption and Fair Trade as well as related issues such as child labour, climate change and the Sustainable Development Goals.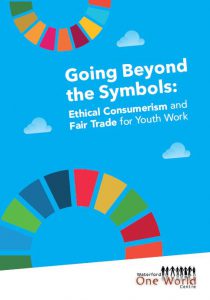 Description
This resource includes:
Introductory material to the sustainable development goals and wants vs needs
8 activities and 8 info sheets
issues and topics covered: child labour, carbon footprinting, ethical consumption, sustainable tourism, Sustainable Development Goals
Suggestions for actions that young people can take
Participatory learning methods (quiz, carbon footprint game etc)
This is part 1 of a series of Going Beyond the Symbols which will eventually include an edition for Primary, Post-Primary, Community Group Leaders, Adult Education.