Resource Title
Guidelines for including ageing and older people in development and humanitarian policy & practice
Summary
Guidelines document which draws on available international literature on best practices and the experiences of Irish NGOs to date in working with older people.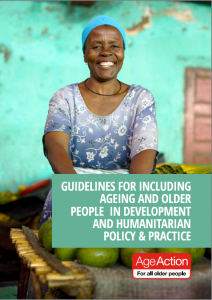 Resource Details
Date added:

5th February 2019

Author:

Age Action

Publisher:

Age Action Ireland

Country of Publication:

Ireland

Year:

2014

Page Count:

52
Description
The guidelines outline the policy framework for engaging with older people in development and key factors associated with working with older people, before presenting introductory guidance for organisations to consider in their work. This guidance addresses external action and programming, the role of advocacy and considerations for organisations' internal systems and procedures. Finally, the guidelines provide a brief reference document containing key questions for consideration in a range of humanitarian and development thematic sectors, and a list of key resources that policy makers and practitioners can refer to for further information.
The document is intended as an aid to management, policy and programme teams within these organisations, at headquarters and operational levels, to support the continuous development of best practices, working methods and progressive policies, using a rights-based approach centred on inclusion, non-discrimination, equality, equity, and participation